2023-01-29
2023-03-23
Royal Padel in 2023 brings out new models that will not leave anyone indifferent, starting with the R-ACE, RP850 or the EUROPE PRO , three 100×100 power models.
Other models such as the RP-790, Aniversario or M-27 are consolidated in 2023 as models with a long run and a lot of acceptance within the Royal Padel legion.
Analysis Royal Padel 2023 padel rackets
As always at Royal Padel they opt for softer rubbers and with anti-vibration technologies, perfect for those who suffer from elbow injuries.
In its new 2023 racket catalog you can choose from a wide variety of designs and models the one that best suits you.
Royal Padel RP M27 R-ACE 2023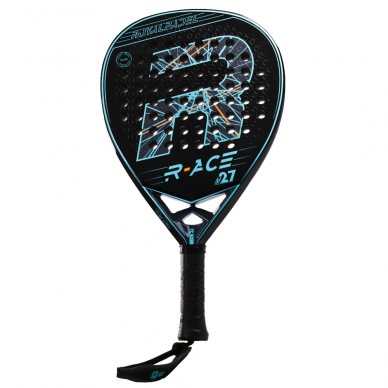 OFFER: €339.95
RRP: €380.00
Shape: Diamond
Game: Power
Weight: 360-375
We start with the new M27 R-Race , one of the main novelties of 2023 , intended for the professional player looking for a lot of power. It has a diamond shape that together with a high balance will allow you to execute some very powerful blows.
Its construction is 100% carbon, reinforcing the surface with 3K fabric together with an eva rubber core to achieve a semi-hard touch. The combination of confers very good punch but without sacrificing the ball output. Finally, it has roughness on the faces with 5D carbon to give you unbeatable effects on each hit.
Royal Padel RP M27 R-Control X 2023
OFFER: €314.95 RRP: €350.00
Shape: Circle
Game: Controller
Weight: 355-365
Next in the line is the M27 R Control X , which returns with a totally revamped design in black with green accents. It has a round format and a low balance which gives us exceptional control. We recommend it to advanced level players who are looking for a light, control racket and a wide sweet spot .
In its manufacture we find Carbon Hexcel 16K a type of material that improves the resistance of the padel racket. On the other hand, soft polyethylene rubber has been used in its frame that provides a very soft blow, perfect for people who want to reduce vibrations. To finish on their faces we find the 5D roughness that improves contact with the ball to achieve very good effects.
Royal Padel RP M27 R-Control 2023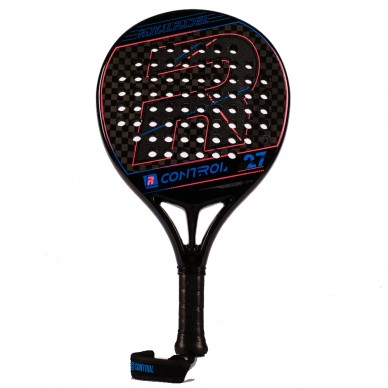 OFFER: €314.95
RRP: €350.00
Shape: Circle
Game: Controller
Weight: 360-375
We continue with the M27 R Control, a perfect model for those players with a high level who seek control but without losing power. Its shape is completely round and the balance is close to the hand, making it very manageable.
Its touch will surprise you thanks to its hybrid core, which combines a softer rubber, such as polyethylene, with another a little harder than eva rubber, thus achieving a comfortable but powerful hit. On the other hand, its construction is made of carbon together with 12K hexcel fibers, which make it very flexible. It also has the Absorption shock system that helps eliminate vibrations for a more comfortable game.
Royal Padel RP M27 R-Fury 2023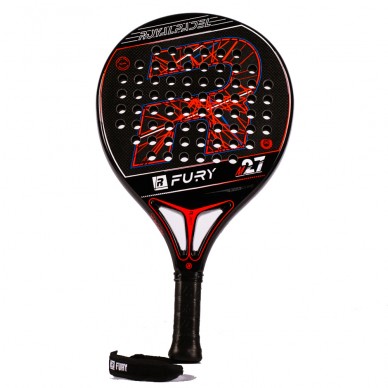 OFFER: €314.95
RRP: €350.00
Shape: Circle
Game: Controller
Weight: 360-375
The M27 R-Fury 2023 , a model that maintains the round shape along with a low balance to give you very good control on the track. Of the entire M27 series, it is one of the ones that presents a harder touch since it has been designed with eva rubber, which gives it extra power without losing its fantastic control on each hit. The Shock Absorption system has also been used to help reduce vibrations.
In its construction we find Hexcel 3K carbon which provides help by increasing its hardness to be able to execute powerful shots. A 5D roughness finish has also been given to the faces like all of the ones in this collection to achieve good topspin.
Royal Padel RP M27 Polyethylene LTD 2023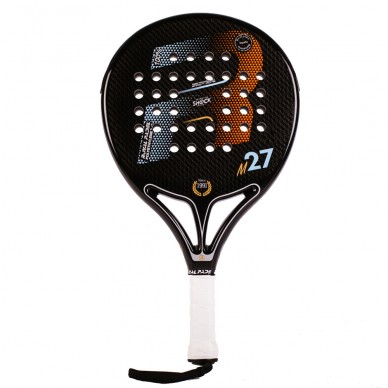 OFFER: €314.95
RRP: €350.00
Shape: Circle
Game: Controller
Weight: 360-375
The M27 series are possibly the models that are currently sold the most, both for the game they offer and for the quality of their finish, here we can find the RP M27 Polyethylene LTD. Its shape is round which, together with a balance close to the hand, provides you with great manageability so that you can control your blows.
Its construction is with Polyethylene , a soft rubber that absorbs vibrations and gives you a very good ball output. In the rest of the padel racket, carbon and 3k fabric have been used for greater resistance and power. A version for girls is available: the Royal Padel M27 Light LTD with the same features but a lighter weight , approximately between 350-360 grams.
Royal Padel RP790 Whip Polyethylene 2023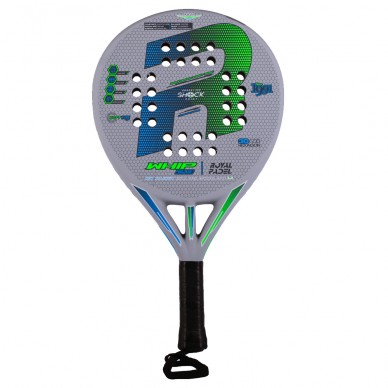 OFFER: €314.95
RRP: €350.00
Shape: Teardrop
Game: Multipurpose
Weight: 360-375
The mythical and topseller of Royal Padel returns in 2023 , R P790 Whip Polyethylene that has been designed with polyethylene , a rubber that provides a very sweet touch. Its mold is teardrop-shaped and thanks to the combination of its materials it becomes a versatile racket.
In addition, its balance remains focused so that it is not difficult for you to adapt to it. It maintains the roughness on the faces that gave such good results last season.
This advanced level racket is perfect for those players looking for a good balance between power and control, without neglecting comfort in each hit. The RP790 Whip Woman model is available, designed with a lower weight and a design with fuchsia and blue details more focused on a women's racket .
Lastly, within the RP790 we would have the RP790 Whip Hybrid , the difference is found in the core, it combines polyethylene rubber with eva. This translates as an intermediate touch which will give you extra power when you want to hit the ball hard.
Royal Padel RP 33rd Anniversary Polyethylene 2023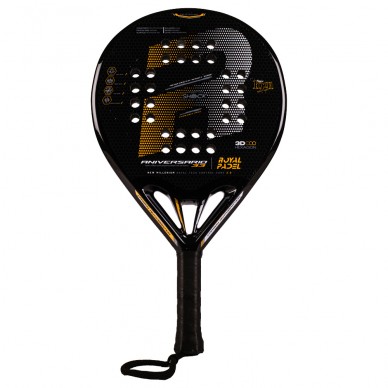 OFFER: €287.95
RRP: €320.00
Shape: Circle
Game: Multipurpose
Weight: 360-375
Here we can find the reissue of the RP 33 Aniversario Polietineno , the model that commemorates the 33 years of Royal Padel . It is perfect for those people who have an advanced level who are looking for a racket that reduces vibrations and is comfortable to play. As its name indicates, it has been made with polyethylene rubber that helps to recover the ball well and gives us a good start.
Two other models that we have available are the RP 33 Aniversario Woman for women and the RP 33 Aniversario Hybrid with polyethylene rubber and EVA.
Royal Padel RP850 Pure 2023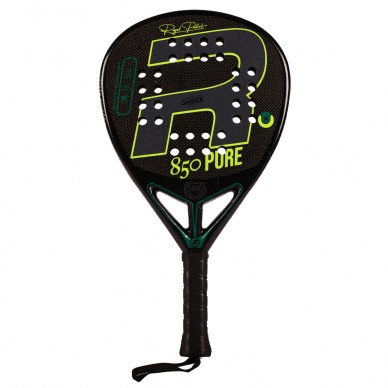 OFFER: €150.00 RRP: €170.00
Shape: Diamond
Game: Power
Weight: 360-375
One of the rackets with the best value for money is the RP Pure 2023 . It is a medium-high level model perfect for the most hitters. Its mold is diamond-shaped which, combined with a high balance, makes it a very powerful racket.
The structure is 100% carbon with a Soft Eva rubber core for a very strong touch but without leaving behind comfort in each shot and a carbon fiber frame. If you like this model, the RP Pure Woman for women is also available with a lighter weight.
Below these models we would have the low range of Royal Padel which has a little less acceptance as it is Chinese manufacturing and we have not wanted to include them in this review.
As you can see Royal Padel returns in 2023 with a most complete collection. Remember that the most differentiating feature of Royal Padel is the core with polyethylene rubber , it is a brand that we recommend to all those people who suffer from elbow problems since they are soft and very manageable padel rackets.
However, this season the brand has developed more powerful padel racket to adapt to the needs of each player.