2022-06-06
2022-06-06
One more year, we analyze the new Asics Padel shoes for women and men 2022 , one of the favorite brands of players since it is one of the greatest references in padel tennis.
The latest version of the Asics Gel Padel Lima FF come to an end, a shame since this model has been one of the favorites in recent years by most players and they are the most successful.
New collection of Asics 2022 footwear to play padel tennis
This season Asics has designed a large number of men's padel shoes for all kinds of levels , from high-competition range to models for occasional players.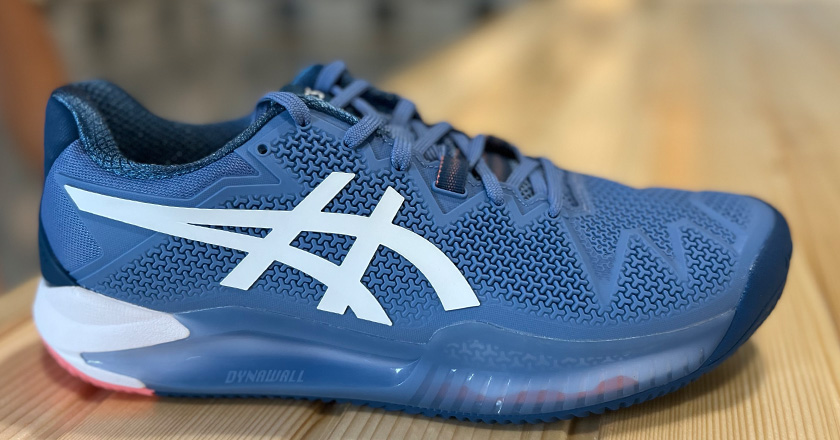 As every year, the brand has used its best technologies such as the well-known Gel technology also combined with flytefoam or wingwall, among others, that improve the cushioning of each shoe.
To finish and as the main novelty, this season they have designed a new padel sole that combines a cross design , a pivot point , a lateral support as well as a wider spike design to improve traction on the court.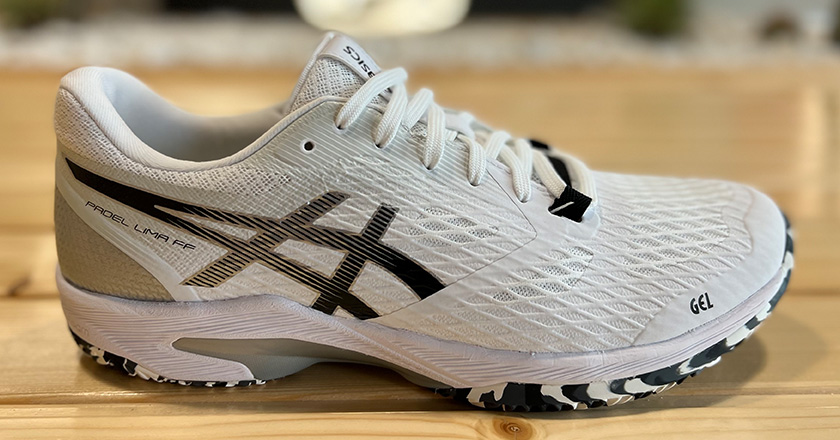 This new sole is recommended for the new courts that are being implemented throughout Europe and that is beginning to arrive in Spain little by little, it is a sole suitable for courts with "longer hair" grass.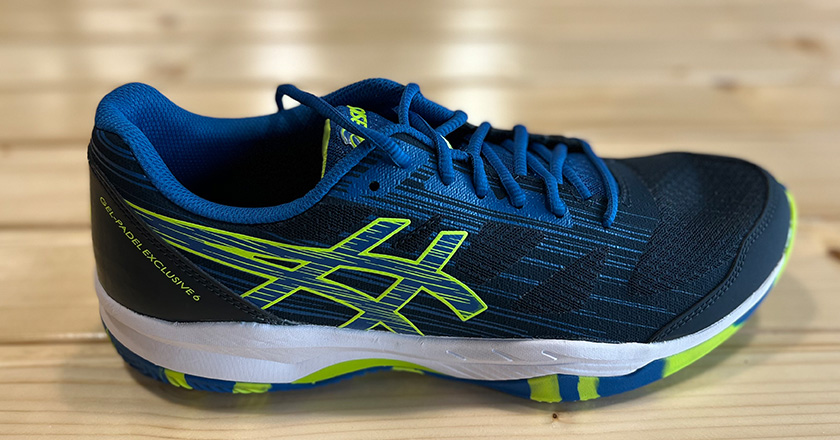 Asics Solution Speed FF 2 Clay Blue Harmony Guava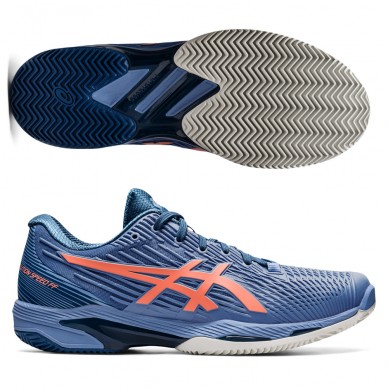 OFFER: €134.95 RRP: €150.00
Damping: Front and rear
Upper: Technical material
Sole: Clay
We start with the lightest Asics model to play padel : the Solution Speed FF 2 Clay. It is one of the favorites by players, for its incredible features and technologies. Like its predecessor, it repeats with the herringbone sole that gives such a good grip on any surface.
We highlight its main novelty, which is the Rearfoot Gel system in the sole area , a technology that is responsible for giving the foot greater cushioning thanks to the silicone gel it brings, which will help reduce impacts.
Not only will they allow you to reach the balls with more speed, but you will also obtain great flexibility of the foot as well as greater stability when supporting it. The Solution Speed has a version of women's padel shoes with another color combination, in purple and yellow..
Asics Gel Resolution 8 Clay Blue Harmony White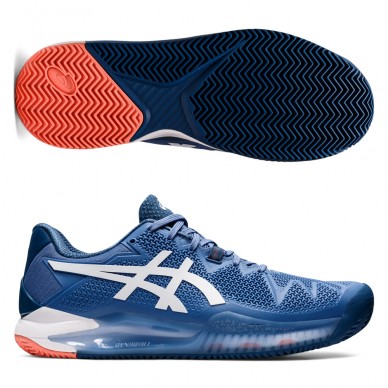 OFFER: €124.95 RRP: €140.00
Damping: Front and rear
Upper: Technical material
Sole: Clay
We continue with the Resolution 8 gel, the most stable in the collection, and the substitutes for the Asics Gel Padel Bela . Thus, they will help you avoid injuries thanks to the reinforcement that has been added in the heel area. It is also one of the models with a slightly wider last, so it is very comfortable and is perfect for players with wide feet.
Gel and Flytefoam have been used in its sole, which will help provide you with greater cushioning and avoid impacts on the foot when you make jumps or fast movements. You can also forget about erasing the drawing of the sole since it has been designed with materials that help prevent wear due to abrasion.
Asics Gel Padel Lima FF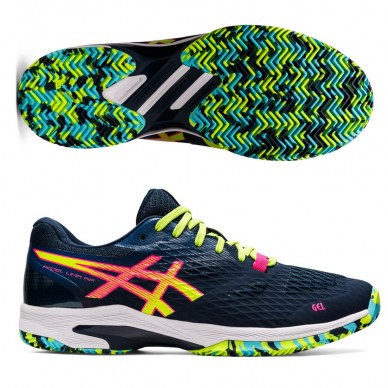 OFFER: €99.95 RRP: €120.00
Damping: Front and rear
Upper: Mesh
Sole: Clay
If you want to wear Pablo Lima's favorites, the Asics Gel Padel FF is your shoe, the high-end model with the best value for money to play padel tennis . For the sole, the herringbone has been chosen since it provides a great grip to the ground, a Dynawrap reinforcement has also been incorporated, which provides greater stability to prevent twisting of the foot.
To reduce the risk of abrasion, the AHAR system has been implemented so that you can play with them for a long time. In the manufacture of the upper, mesh has been used which, in addition to making them very light, helps prevent sweat from accumulating on the foot.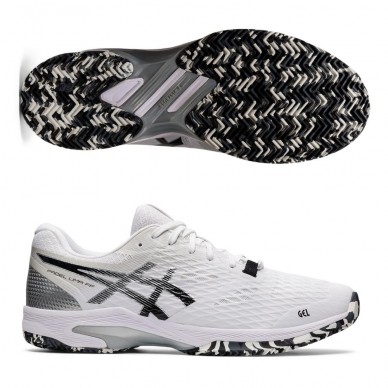 OFFER: €107.95 RRP: €120.00
Damping: Front and rear
Upper: Mesh
Sole: Clay
To finish, they combine the Gel system with Flytefoam technology , a combination that reduces joint discomfort. This season presents 2 color combinations for boys as well as another more feminine one: the Gel Lima FF in pink tones for demanding women.
Asics Gel Challenger 13 Clay White Indigo Blue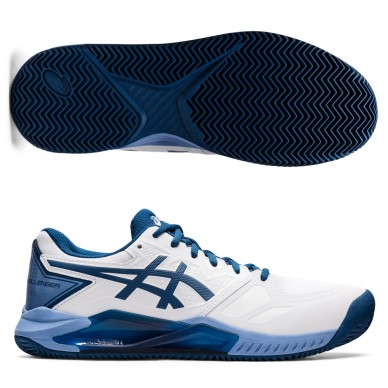 OFFER: €89.95 RRP: €100.00
Damping: Front and rear
Upper: breathable fabric
Sole: Clay
The Gel Challenger 13 Clay is one of the models that has the best price regarding its technologies since it brings together all the quality of Asics without going over budget. Thus, it has an Ortholite insole which protects the foot while avoiding bad odour.
Both the sole and the toecap have been reinforced for greater resistance, in the first the Pguard protective has been used and in the second AHAR+ which helps to avoid the wear of the sole pattern.
The risk of injury due to impacts is reduced, as gel has been used. In addition, we will achieve greater stability thanks to the Wingwall technology, thus avoiding twisting your foot while you move on the track. You can find the Gel Challenger 13 for women with a design in different shades of blue and with the same technologies.
Asics Gel Padel Exclusive 6 French Blue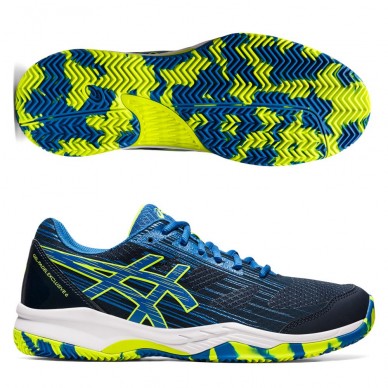 OFFER: €90.00 RRP: €74.96
Damping: Front and rear
Upper: Technical material
Sole: Clay
We continue with another of the models that offers great quality/price. The Gel Padel Exclusive 6 is a shoe that is also available for men in blue and yellow. The sole that has been used is clay type, which helps to have a stronger grip to reach all the balls without slipping.
Its construction is mainly in mesh, which will help us to flex the foot without problems while providing us with great perspiration from sweat. They also have great cushioning as well as the Trusstic stabilizer which will help you make lateral movements more safely.
Inside, foam has been included as well as gel in the sole, which will help protect the foot from injuries due to strong movements. To finish, it incorporates compounds that help prevent abrasion, which will give them a longer life.
Asics Gel Game 8 Clay White Indigo Fog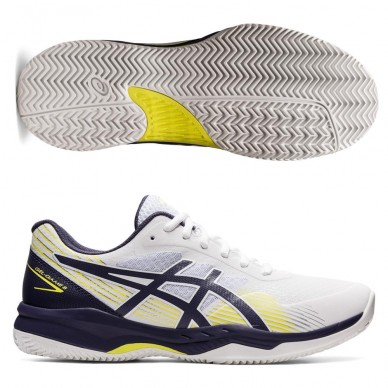 OFFER: €71.95 RRP: €80.00
Damping: Front
Upper: Mesh
Sole: Mixed Clay
We continue are the ASICS Gel Game 8 basic shoes that perfectly fulfill their function , helping you to reach even the most difficult balls. In its design we can find micro perforations which help to better evacuate sweat. This model maintains the clay sole and the Gel system in the toe to have the best grip and cushioning.
Like the rest of the models, they also have a stabilizer, an essential feature to avoid dangerous ankle sprains. In addition, its structure is reinforced and rubber is added in the toe area, which helps protect the fingers from possible blows.
Asics Gel Dedicate 7 Clay White Light Indigo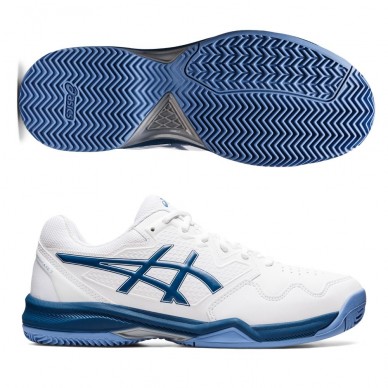 OFFER: €52.95 RRP: €65.00
Damping: Front
Upper: Synthetic material
Sole: Clay
We continue with one of the cheapest Asics shoes: the Gel Dedicate 7 that incorporate a number of technologies and technical materials at a good price. Its main novelty is the change of the Upper which has been given greater flexibility as well as micro-perforations which will help prevent moisture from accumulating and maintain a stable temperature.
In addition, the front part has been reinforced with rubber, which will help reduce its wear and tear once you play. The heel has foam for greater cushioning and a stabilizer is included to perform lateral displacements safely. They have been designed in various color combinations for both men and women, so you just have to choose the one you like best and the right size.
Asics Gel Padel Pro 5 Lake Drive French Blue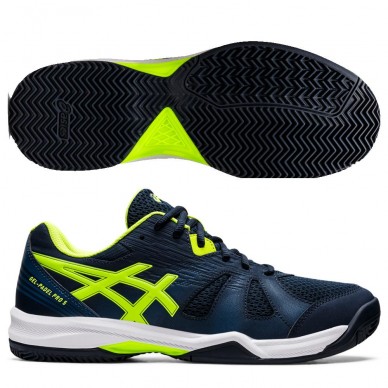 OFFER: €52.95 RRP: €70.00
Damping: Front
Upper: Mesh
Sole: Clay
We end up with the best-selling model of the entire firm since it is the cheapest of the entire collection. The Asics Gel Padel Pro 5 become another year the best-selling Asics shoes. And it is not for less since they return with improved benefits. If we analyze their construction, we see that the design of the upper has been changed again and more technical fabric has been used to make them more breathable, lighter and more flexible.
It also has a removable insole as well as interior foam which helps the shoe fit better to the foot to offer greater comfort. The Clay sole is repeated as it is one of the ones that provides the best grip when moving around the court. It also has the Trusstic system which consists of two lateral supports to achieve better stability.
As you can see , this new Asics 2022 collection does not disappoint , since there is a wide variety of padel shoes at different prices so you can get the one that best fits your pocket.