2023-01-11
2023-01-11
The StarVie brand continues to bet on "Made in Spain" in 2023 , since all products are manufactured in Spain, this year it renews some of the most emblematic models of the star brand, such as the Triton, Basalto, Dronos , Titania and Aquila.
Star Vie in 2023 has the representation of professional players on the World Padel Tour , such as Bea González, Javi Garrido or Coki Nieto among others. In the new catalog of rackets we can differentiate different ranges, depending on the type of player they are aimed at.
The renewal in 2023 comes with the Premium and Universe range for more advanced players… and a Star range for medium/high level , as well as Gravity for intermediate players and Discover for beginners .
Premium range of padel rackets Star Vie 23
Here we find the top rackets from Star Vie in 2023 , developed with innovative technologies as well as top quality materials. From last season, the Astrum Eris, the Metheora Warrior and the Raptor Evolution that have been so popular remain .
As if that were not enough, the StarVie pad bags have the same design of the padel rackets so they combine perfectly, and you can get a perfect look.
As novelties we present:
Star Vie Metheora Dual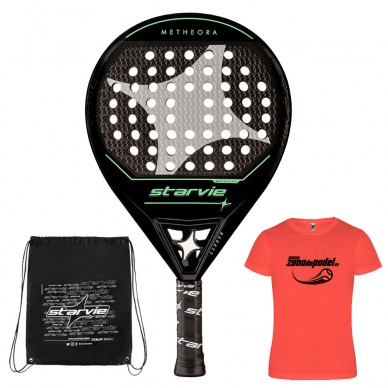 OFFER: €339.95
RRP: €380.00
Shape: Round
Game: Multipurpose
Weight: 360-375
The new Metheora Dual 2023 is intended for very high level players , the new Metheora Dual padel racket has been developed in black and silver. It returns with a new Dual Density core , that is, in different densities to give you the comfort and power you need, adapting better to both fast and slower balls.
It maintains its characteristic round shape with a centered balance, being a fairly versatile racket. For the structure, carbon colors in 3k have been used, which gives it greater resistance. It has roughness in the planes and a star balance heart design for a better weight distribution.
Star Vie Triton Pro 2.0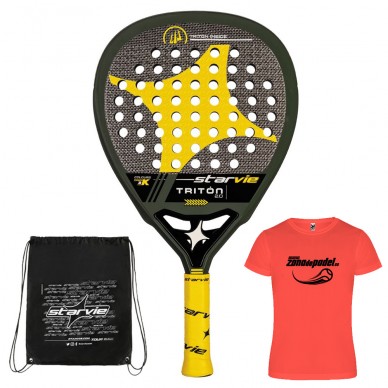 OFFER: €284.95
RRP: €317.00
Shape: Teardrop
Game: Power
Weight: 360-375
The best ally for attack players since the new edition of the Triton Pro 2.0 23 padel racket is the most powerful. It has an oversize mold to improve its sweet spot and by bringing the balance towards the head, it generates that extra power.
It has been manufactured with 3k carbon colors fabric , a material providing greater rigidity, resistance and durability. It also incorporates relief on the faces and generates a comfortable hit thanks to its Pro V50 medium-density rubber.
On the other hand, there is a softer version, the Star Vie Tritón Speed 2.0 made with the new Ultra Speed Soft rubber , an ultra-soft foam that offers great sensations of comfort.
Star Vie Universe 2023
Star Vie Dronos Galaxy Speed 2.0
OFFER: €242.95
RRP: €270.00
Shape: Teardrop
Game: Multipurpose
Weight: 360-375
The Dronos 23 is a model renewed by Star Vie that stands out for its balance since it presents a teardrop format combined with a focused balance so as not to disappoint in power either, being a most versatile racket ideal for athletes with a high level of play.
For the construction of the Dronos Galaxy Speed 2.0 , carbon and aluminum have been used in the tubular and 3k fabric for the surface, which provides great resistance.
It also has roughness in the planes as well as a piece in the heart that makes it more manageable. You will enjoy great comfort thanks to the use of ultra speed soft rubber, which improves ball output and better absorbs vibrations.
Star Vie Basalto Osiris 2.0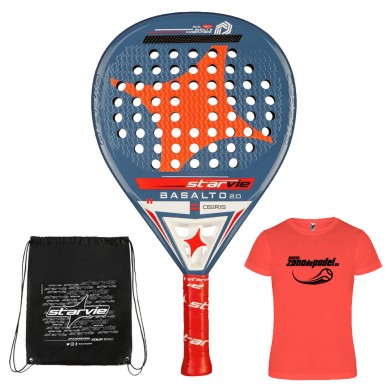 OFFER: €259.95
RRP: €290.00
Shape: Teardrop
Game: Multipurpose
Weight: 360-375
It is characterized by being very well compensated , so it responds very well both from the backcourt and from the net due to its oversize mold and focused balance. It has also been made with soft eva rubber to provide greater sensations when hitting the ball. In our opinion, it is suitable for high-level players who want to dominate any corner of the court.
For the exterior structure, basalt and carbon have been used , which make it extremely resistant. It has a star balance piece in the heart that makes it more manageable as well as roughness to increase the effects. There is also a slightly stiffer version, the Basalto Osiris Pro 2.0 , since the core is made of medium eva rubber, which gives it a harder touch and, therefore, more power when hitting.
Star range of padel racket Star Vie
Here we find 2 classic models with their respective adaptations according to the rubber that has been used.
Star Vie Aquila Space Pro 2.0
OFFER: €198.95
RRP: €220
Shape: Teardrop
Game: Multipurpose
Weight: 360-375
The new Space Pro 2.0 stands out for its construction since carbon has been used both in the frame and on the faces as well as medium-density eva rubber. The combination of materials gives it greater hardness so, even though it is a versatile racket, it provides extra power to be able to play our most aggressive game near the net.
It also presents a slight roughness on the planes, with which you can give more spin to the ball and thanks to the new design of the heart, it is a very manageable racket , which will help you to dominate any area of the court. The brand presents 2 adaptations of these models for those looking for a softer touch: the Aquila Space 2.0 with soft eva rubber and the Aquila Space Speed 2.0 with ultra soft eva rubber, thus providing a softer touch and eliminating vibrations.
Star Vie Titania Kepler Pro 2.0
OFFER: €189.00 RRP: €210.00
Circle shape
Game: Multipurpose
Weight: 360-375
It presents a 100% carbon construction with 3k fabric for greater resistance. It maintains the round shape of its predecessor, which widens its sweet spot, although it also provides a good punch thanks to its focused balance. It also generates a fantastic touch since medium-density eva rubber has been used in the core and its heart piece gives it great manageability.
As in the case of the Space, we can also find 2 models of the Titania with the same features but softer, the Titania Kepler 2.0 that combines fiberglass on the planes and eva V30 rubber. Finally, the Titania Kepler Speed 2.0 is available with fiberglass and ultra speed soft rubber, the softest of the brand, so it eliminates vibrations and is perfect for players with elbow problems or epicondylitis.
Gravity range mid range Star Vie 23
Star Vie Corvus Column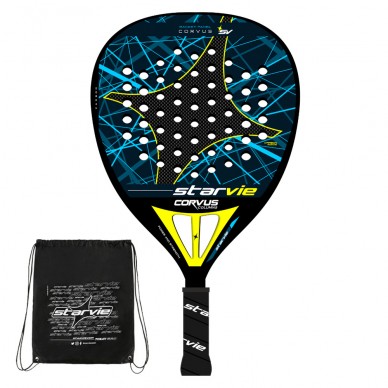 OFFER: €162.00
RRP: €180.00
Shape: Diamond
Game: Power
Weight: 365-375
It is one of the new 2023 models in the gravity series designed for mid-level players with a versatile playing style . It has a round mold to enlarge the hitting surface and a medium balance to provide a good punch. In addition, the blue Corvus Column generates a comfortable touch since it incorporates soft eva rubber.
It is a low-density foam that provides a softer hit as it better absorbs the impact of the ball. Regarding the structure, 12k carbon fabric has been used, which provides great strength to the structure and gives it greater resistance against possible blows.
Star Vie Raydium Columns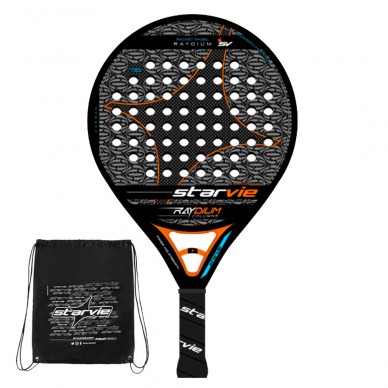 OFFER: €160.00
RRP: €185
Shape: Round
Game: Controller
Weight: 360-375
It has been made of carbon so the structure is very solid, improving its resistance against possible blows or accidental shocks. On the track it offers extra power since its mold is oversize and combines it with a high balance to get that extra power.
On the other hand, the new Raydium Columns does not neglect comfort either, as soft eva has been used on the inside, offering a more comfortable hit and softer touch. In short, it is a powerful racket ideal for intermediate level players as it will help them level up.
Discover initiation Star Vie padel rackets
It is the most basic series, ideal for players who have been playing for a short time or who are planning to start. All the models have been designed with a round shape and low balance, which will help us to have more control of the ball.
In the initiation range, more flexible materials have been used in its construction to ensure a quick adaptation of the athlete. You can choose between the Star Vie Spika 2.0 , the Vesta 2.0 or the Arcadia 2.0 .
And here is the new catalog of Star Vie 2023 rackets , as you can see a wide variety of models adapted to all pockets. Find the model that best suits your style and dominate all aspects of the game with the new Star Vie models.