Star Vie Aquila Space Speed 2.0
-44%

Star Fri Aquila Space Speed 2.0 Padel racket | Play without discomfort with this advanced Star Vie racket, a model that is very well compensated and hardly generates vibrations due to the ultra-soft eva rubber used
Control
Power
Ball outlet
Manageability
Hardness
Gameplay
Star Vie Aquila Space Speed 2.0 2023 Padel Racket
Enjoy unbeatable sensations with the new Aquila Space Speed 2.0 padel racket in blue and green, one of the novelties developed by Star Vie this 2023. It is characterized by its softer touch, since ultra speed soft eva rubber has been used on the The interior thus absorbs vibrations very well and generates a very comfortable hit.
Regarding its game, it is very well compensated by its teardrop format and focused balance so you will be able to defend the point and attack your opponents when necessary. It has also been made from 100% carbon, has a rough surface and the new heart design gives it great manageability.
Star Vie Aquila Space Speed 2.0 blue and green, characteristics
The Star Fri Aquila Space Speed 2.0 is the softest of the series since it uses ultra speed soft eva rubber.
Solid and strong structure with the use of 3k carbon.
Teardrop shape that widens your sweet spot and improves your control.
Focused balance to get a good punch near the net.
Its heart design provides great stability.
It prints better effects on the ball thanks to the roughness of its faces.
One of the novelties of the Star range of padel tennis rackets Star Fri 2023.
Who is it for? Especially designed for players who are looking for a soft racket since thanks to the rubber used in the core, you will barely notice vibrations, being able to play for hours without ending up with arm discomfort or overloading.
Why will you like it? Because it is very comfortable to the touch, offering a lot of sweetness so that you can play comfortably and finish your games without discomfort. You will also love its new aesthetic in black, blue and green, highlighting the central logo in white, it is very cool!
Find out more about the STARVIE brand
Switch to one of the firms with the best reputation in padel tennis: Star vie Sport. The brand has a long history in the sector, since its products are of the highest quality to always offer the best performance to athletes. Players like Bea González, Javi Garrido or Coki Nieto compete with their products.
Enjoy in our online store its new collection of padel tennis rackets, kits, paleto bags and other accessories, we are convinced that you will find the one that best suits you and always at the best price.
Features
Shape: Tear
Level: Advanced
Play: Polyvalent
Weight: 360-380 gr.
Profile: 38 mm
Player: Man
Year: 2023
Tacto Blando
Material Principal Carbono
Rugosidad 3d
Our best products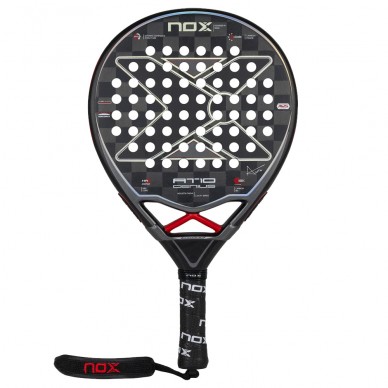 -44%

-49%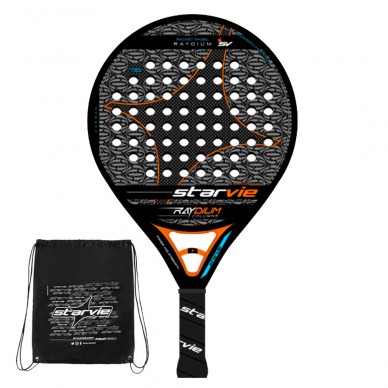 -9%