2023-08-03
2023-08-03
Choose the weight of the padel racket
To begin with, one of the questions that players usually ask is what weight to choose when buying a padel racket, what is the proper weight of the racket? What is the difference between a padel racket with a lot of weight or a little weight? In today's article, we tell you what factors influence when choosing the weight of the padel racket, they can be light and balanced, or heavy and powerful.
The weights that we indicate in the article are approximate weights so that you can get an idea. Many padel shops do not give the possibility of choosing the weight, in our project, however, we consider that the choice of weight is one of the most important factors when you are choosing the padel racket.
Along with the player's type of game, generally most stores, if you ask for a specific weight and have units, will look for the one that most closely matches your need.
Indicative table of padel racket weights
| Person | Player weight | Recommended weight |
| --- | --- | --- |
| Man | 50-60KG | 360-365 gr |
| Man | 60-70KG | 360-365 gr |
| Man | 70-80KG | 365-370 gr |
| Man | 80-100KG | 370-380 gr |
| Women | 40-60KG | 330-355 grams |
| Women | 60-70KG | 355-360 gr |
| Women | 70-80KG | 360-370 gr |
| Children | 40-60KG | 330-345 grams |
Padel rackets with little weight, light and balanced
The light padel rackets are padel rackets as a general rule with a weight of less than 355 grams. The padel rackets with less weight are the fastest and the ones that we can move more quickly to volley, as a general rule they are control rackets.
But we must take into account that they are the ones that are punished the most, so their duration will be less than a heavier racket. At the same time our body is also punished more if the weight is very light since all the impact of the ball has to be made by the racket and not the arm. Here is a summary of what a low-weight padel racket can provide you:
Player weight: Men over 50-75kg, women 40-60kg, or beginner players.
Advantages: Greater speed in hitting, fast game.
Disadvantages: Less duration of the padel racket, more probability of suffering injuries.
Padel racket with medium weight, balanced padel racket
The balanced padel racket are padel racket between 360gr and 370gr , as a general rule it is the weight that you will find in most stores and the weight that almost all manufacturers manufacture.
We will have some power with a not very high weight, so we will gain speed in our hitting on the net. It would be the ideal padel racket for padel players who are beginning to practice padel or who are beginning to progress, they are what we call multipurpose padel rackets.
Women may also find themselves more comfortable in this weight range or with lighter padel racket. Below is the characteristics of the padel racket with an average weight:
Player weight: Men between 70-85kg, women 60-75kg.
Advantages: It is in the middle ground between power and speed.
Disadvantages: Lack of power and lack of speed.
Heavy padel racket, more power
The heavy padel racket are padel padel racket of more than 375 grams , they are the heaviest padel racket, they are the power padel racket, with them we will be able to hit the ball with greater power, but in the same way our response capacity can decrease as it costs more to move it.
Indicated for advanced players who already have a certain level, since the hit must be faster and you must take into account that we will get tired before, then we leave a summary so that you know when to choose a heavy racket.
Player weight: Men from 80kg, women from 70kg, or advanced level players.
Advantages: higher impact, longer racket life.
Disadvantages: less speed, greater fatigue.
So how do I choose the weight of the padel racket?
Next, we leave you a summary table that makes it very easy to know what weight of the padel racket we need based on our weight.
It is an indicative table in case you do not want to be reading and looking for what you really need, therefore, you must take into account that each overgrip can increase the weight of the padel racket by around 8 grams, the same would happen with the protectives of padel rackets.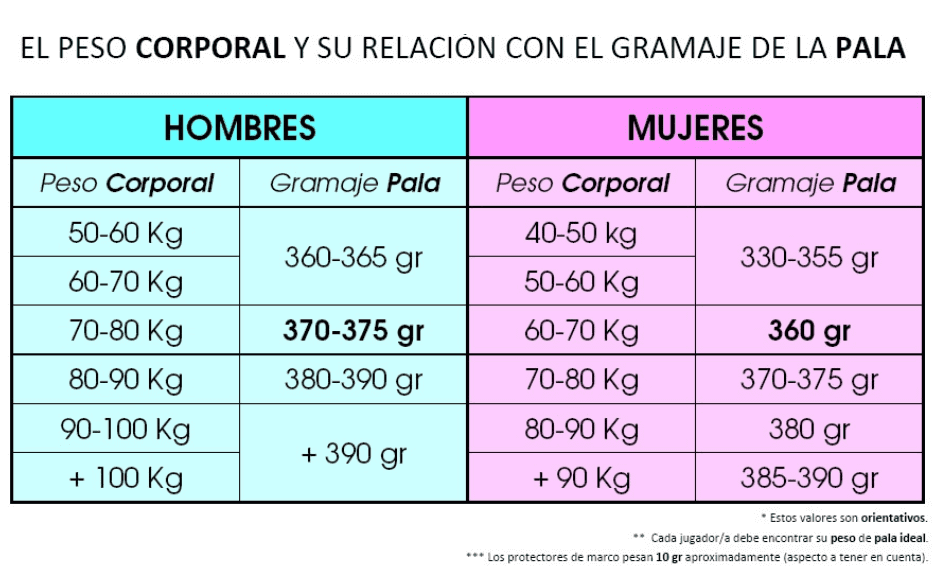 A piece of advice for choosing the weight of your padel racket is that we should always try to choose the heaviest racket that we can and with which we are comfortable, since we can hit the ball with greater power and its duration will be much longer.
Also remember that with a heavier padel racket, as the game progresses it may lower our performance due to the fatigue of hitting with a heavier padel racket, but at the same time our body will appreciate it because it will not have to wear out and overload muscular.
Another aspect that you must take into account are the grips, overgrips and protectives that can make our racket gain about 20g in weight, so going from a 370g racket, more or less balanced, to a 390g racket easily.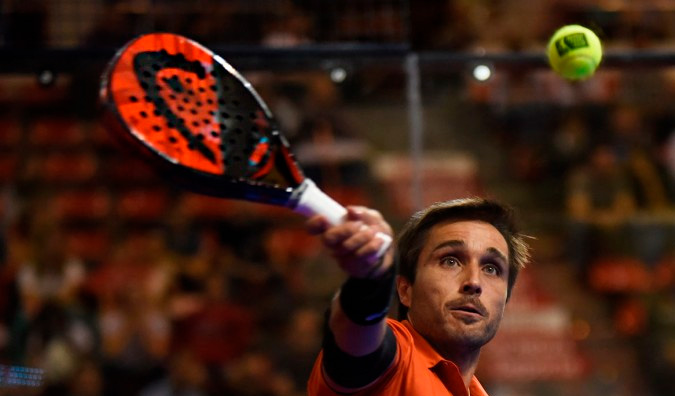 The padel racket according to its balance
The balance in the case of padel rackets, is directly related to the shape it has, so if we took a racket and placed it horizontally on top of a scale, we would know, depending on whether it moves to the right or to the left, if it has a high balance, the padel racket leans more towards the head, medium (balanced) or low because its balance tends more towards the handle or grip of the padel racket.
If you choose the right balance, your wrist will thank you. For example, if the weight is shifted towards the head of the racket, you gain power as we mentioned but when you've been playing for a while, you'll start to notice that you don't hit with the same force as at the beginning, being able to reach the ideal point of impact later. with the padel ball.
In fact, you can feel your wrist overloaded more than necessary and even suffer injuries such as epicondylitis or elbow. Therefore, it is important to perform the relevant wrist warm-ups and be sure that you can handle a power racket.
If, on the contrary, the weight is displaced (round padel racket) towards the fist as we said before, the control is totally dominated and if you also consider yourself a placement player, these types of padel racket will come to you like no other.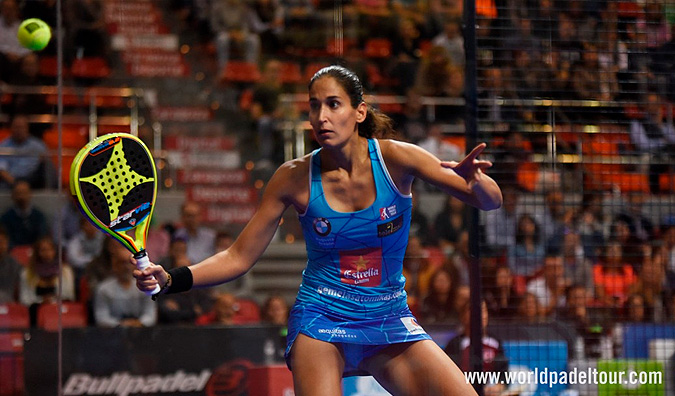 The shape of the padel racket also influences
We know that there are three types of shape that a padel racket can have. These are: round, teardrop and diamond. And depending on our level of play, the style of play we want to carry out and our preferences, we will choose one type of shape or another. For example, for an amateur player, it is best to start with a light round racket in which control prevails over power.
For those players who have a more advanced level, a diamond-shaped racket is totally adequate since it would help them to enhance the blow. The teardrop-shaped racket is balanced and offers the best control-power ratio. In fact, it is suitable for any type of level and for any style of play.
The ideal weight of the padel racket is…
It is one of the most important aspects to take into account and that many players do not exactly realize. The level of play is directly proportional to the speed of the ball and the weight that the ball brings from our opponent. The higher your level of play, the more you will have to raise the weight of your racket.
And it is that, many players play with the same weight of the racket or even decrease it as they advance in their level of play, remember that you will always have the option to customize the weight of your racket. For this reason, we recommend that as you level up, you increase the weight of your padel racket, let's say, you add weight depending on your needs and always testing how it turns out for you.
And that's all! From the padel Zone team, we hope these tips have helped you when choosing the right weight for your racket or choosing a type of racket suitable for your characteristics as a padel player.