2023-05-24
2023-05-24
If you are thinking of renewing your padel shoes, we suggest this beauty that Nox brings: the new limited edition AT10 Lux shoes, the official footwear of Agustín Tapia.
Like its sisters ML10 HEXA and NERBO, the AT10 is part of the new range of Nox padel shoes created to minimize the risk of injury and optimize the performance of players.
Review padel shoes NOX AT10 LTD 2023
To start with, the new AT10 Lux are high-performance footwear, ideal for players who train daily. Once worn, they offer the best care for your feet as they have been tested and certified by the INESCOP Footwear Technology Center. Just like they have been endorsed by Marta Rueda, podiatrist and adviser to many elite athletes.
You can appreciate its technologies and details in our video with a complete analysis of this new edition.
NOX AT10 LTD 2023 Analysis
The new Agustín Tapia shoes are one of the great revelations of the season. We begin by talking about the different technologies that make it up, you can see how the internal part of the shoe has been reinforced with the abraxone system, to create reinforcement in the areas most exposed to wear and tear , thus increasing its durability.
They have also been designed with a higher drop, that is, the heel is slightly higher than the toe. This design facilitates the execution of explosive movements, also reducing overloads on the calves and possible muscle injuries.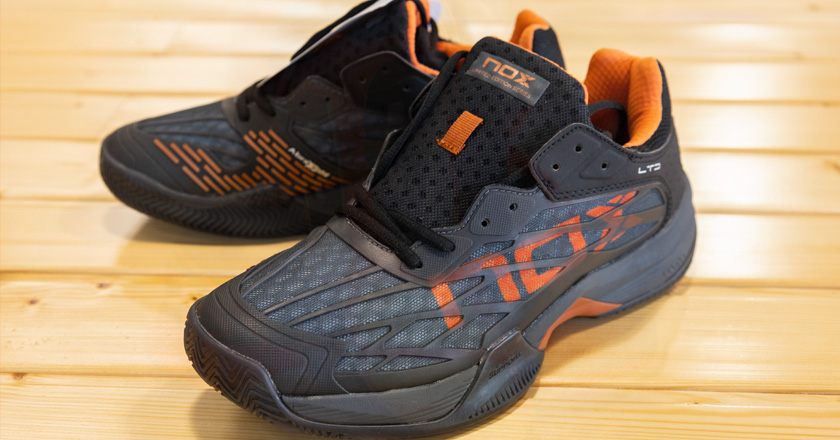 The design of the Upper, in turn, was redesigned incorporating a mesh that improves its fit and at the same time allows more favorable perspiration.
As for the sole, the model incorporates the lateral Support system, a reinforcement in the central area that provides greater stability, thus avoiding twisting of the foot. They also generate a soft footprint without impact thanks to the construction of the plant with EVA rubber and the midsole with low-density injected phylon.
If we look at the type of sole, we see that they combine the clay pattern with a heel as well as a rotation disc on the front to facilitate turns. The mixed design of the sole makes it suitable both for use on sand tracks and on the new WPT tracks where curly grass is used.
Nox AT10 Lux LTD 2023 padel shoes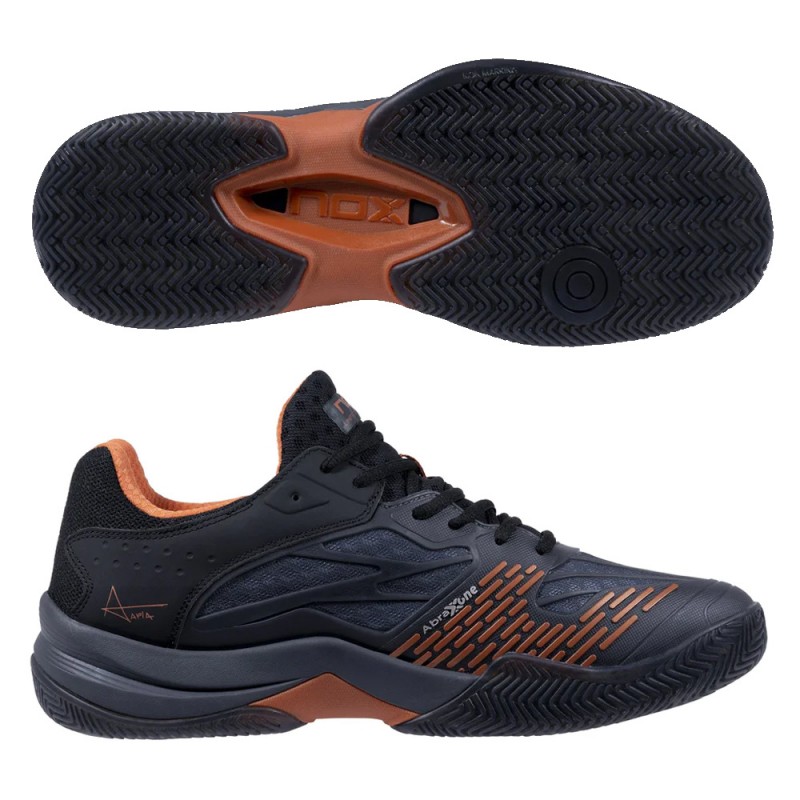 OFFER: €119.95
RRP: €140.00
Level: Advanced
Game: Comfort
Sole: New Padel
Advantages and sensations
It is an exclusive model developed for Agustín Tapia.
Footwear designed for cushioning tested and tested in laboratories.
It offers great stability thanks to the Lateral Support technology.
The drop design improves starting and prevents injuries.
It incorporates an ortholite insole that helps prevent the accumulation of bacteria
The great advantages offered by the AT10 Lux are found in its comfort and great cushioning, since they are extremely adaptable and light when taking them to any type of track.
Its impact cushioning and stability technologies offer a great advantage when it comes to being able to react precisely, something that allows the development of players who do not have to worry about ankle sprains or injuries thanks to their great balance.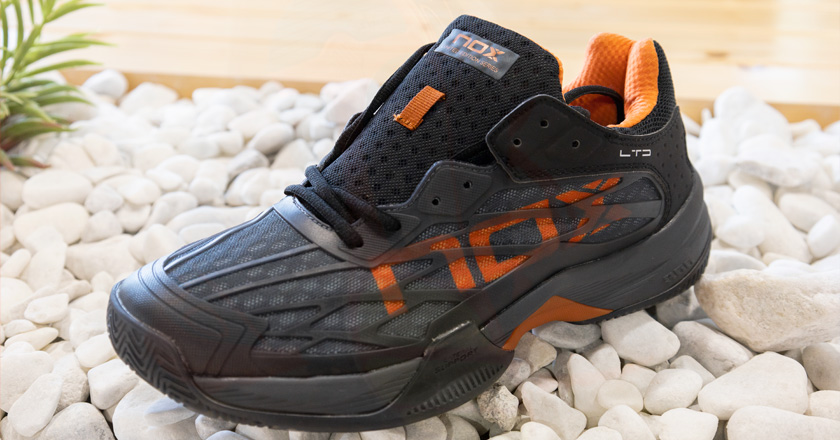 At the same time, it is a very dynamic model as it provides a shorter reaction time thanks to the mixed design of its sole that combines the herringbone and heel pattern for good traction, making lateral movements much easier, making it a highly attractive model for all male and female players looking to be able to take advantage of going up and down as much as they want on the track.
Disadvantages of the Nox AT10 Lux
Although the AT10 Lux are very comfortable shoes and are recommended for anyone looking to benefit from their stability and cushioning, one of the weak points that we have found is the little durability that they can offer if they are exposed to a prolonged effort regimen.
Well, when they are exposed to intense regularity, for example more than 4 times a week, you can notice rapid wear on the sole, which is designed to provide balance and cushioning, but sees its properties altered in the long term.
As well as due to their type of mixed sole, they may not be what players who plan to play only on curly grass courts are looking for, since they do not have as much grip as other models.
Opinion and tests on track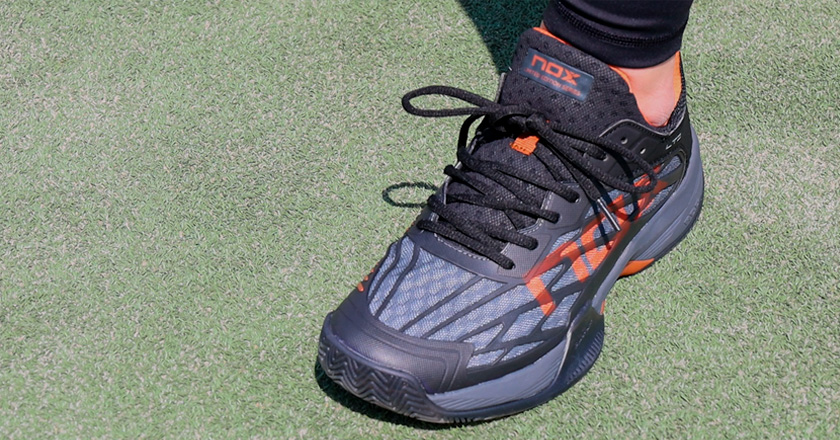 To end our review we can say that after testing them, the Nox AT10 are not only very light shoes but also comply with being adaptable to different types of games thanks to their flexible and breathable construction.
Its ergonomic design is one of the great advantages over its competitors because, having used technical fabric throughout the structure, it greatly helps the elasticity of the foot. In the same way as they incorporate a new reinforcement that improves support, the resistance is noticeable, which gives confidence to be able to make jumps without worrying about the dreaded ankle injuries.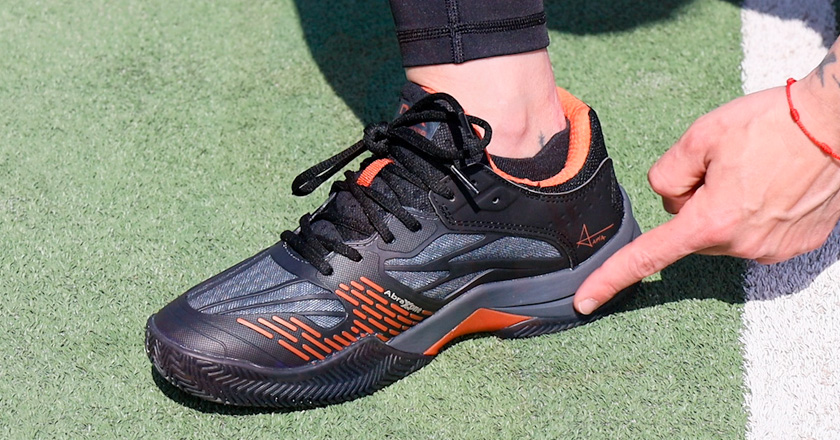 Inside it also includes an antibacterial insole that helps prevent bad odors and also deformation of the shoe itself, which is why we consider it one of the most complete models of this season.
So far our review on the new limited edition Nox AT10 lux shoes, a shoe that maintains the fantastic features to which the brand has accustomed us in a spectacular design in black and bronze.