2022-11-08
2022-11-08
We present the best brands of women's padel clothing , among them you can find the usual ones such as Bullpadel , Head or Nox … or more recent firms that come with exclusive designs such as Hydrogen or Bidi Badu .
In our extensive catalog you can choose from a large number of models or designs that you like the most to go well dressed to all competitions. Among them you will find the most striking designs from brands such as Bidi Badu, to more simple and classic ones such as Head or Asics.
The best women's padel textile
In addition, all of them have been made with a large number of technologies that will help you play comfortably while fighting sweat.
They will also allow you to make all the movements so as not to miss a single ball while you play.
To be of quality, clothing to play padel tennis must have a series of qualities :
breathable.
elastic
Smooth.
Patterns designed for women.
fabrics used.
BIDI BADU, modern clothing for padel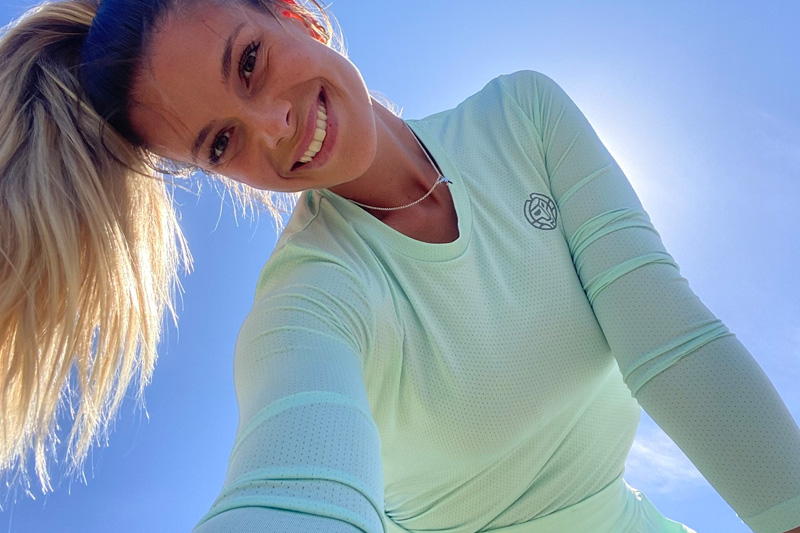 Bidi Badu is a German brand that inspires its designs in the African lifestyle , with which they want to radiate positive energy. Its garments, in addition to having the most original designs , also have high-quality technologies so that you can play sports such as tennis or padel tennis comfortably.
In its technologies we highlight its highly breathable materials, which absorb sweat from the body to later expel it so that it does not accumulate. Highly elastic fabrics have also been used, which allow all movements, in order to prevent you from being able to play comfortably.
Their designs will catch your attention as they have been designed with the most striking colors and combinations but at the same time you can combine them with a large number of garments. Undoubtedly one of the brands with the most modern designs that is coming in strong.
BULLPADEL, the best selling clothing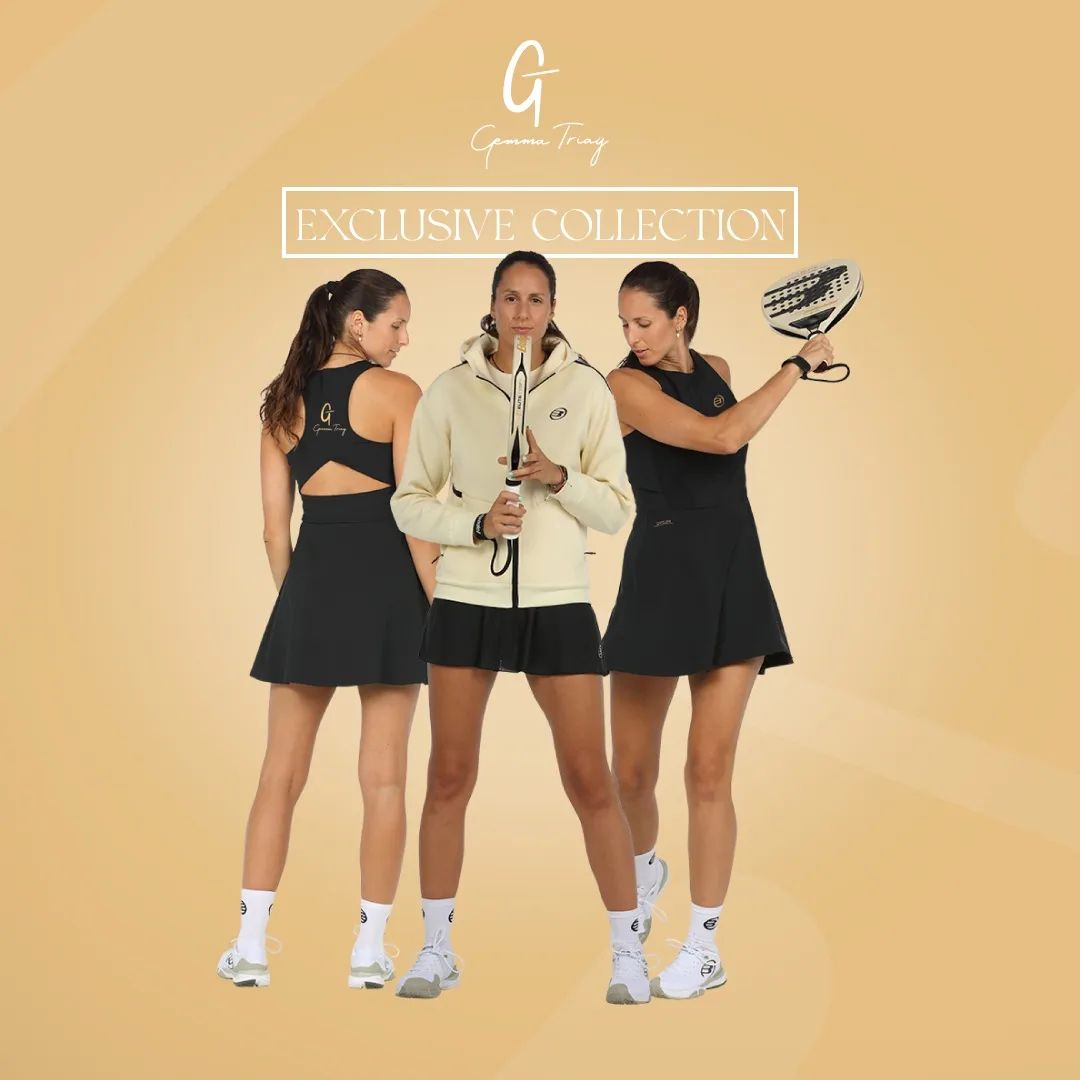 It is a Spanish brand that was created in 1995 and that has a wide catalog of products that are successful among all players. Some professional players like Alejandra Salazar, Gemma Triay or Delfi Brea wear Bullpadel padel clothes .
On the other hand, among its clothing we can find a large number of designs and, above all, exclusive Bullpadel technologies so that you can give the best performance on the track. Among them we highlight:
Quickerdry : material designed with polyester microfilaments, a fabric that provides great resistance. In addition, this fabric is responsible for helping to reduce sweat and humidity.
Drynamic : polyester and elastane microfilaments, two materials that give the garment great resistance as well as elasticity. Consequently, it generates great freedom in movement as well as perspiration.
Binamic : it is responsible for giving the garment greater elasticity so that you can make all the movements. They are also the lightest fabrics that also provide great sweat drying, thus preventing its accumulation.
Drylum : is responsible for retaining little liquid and offering rapid sweat ventilation.
HYDROGEN, luxury padel clothing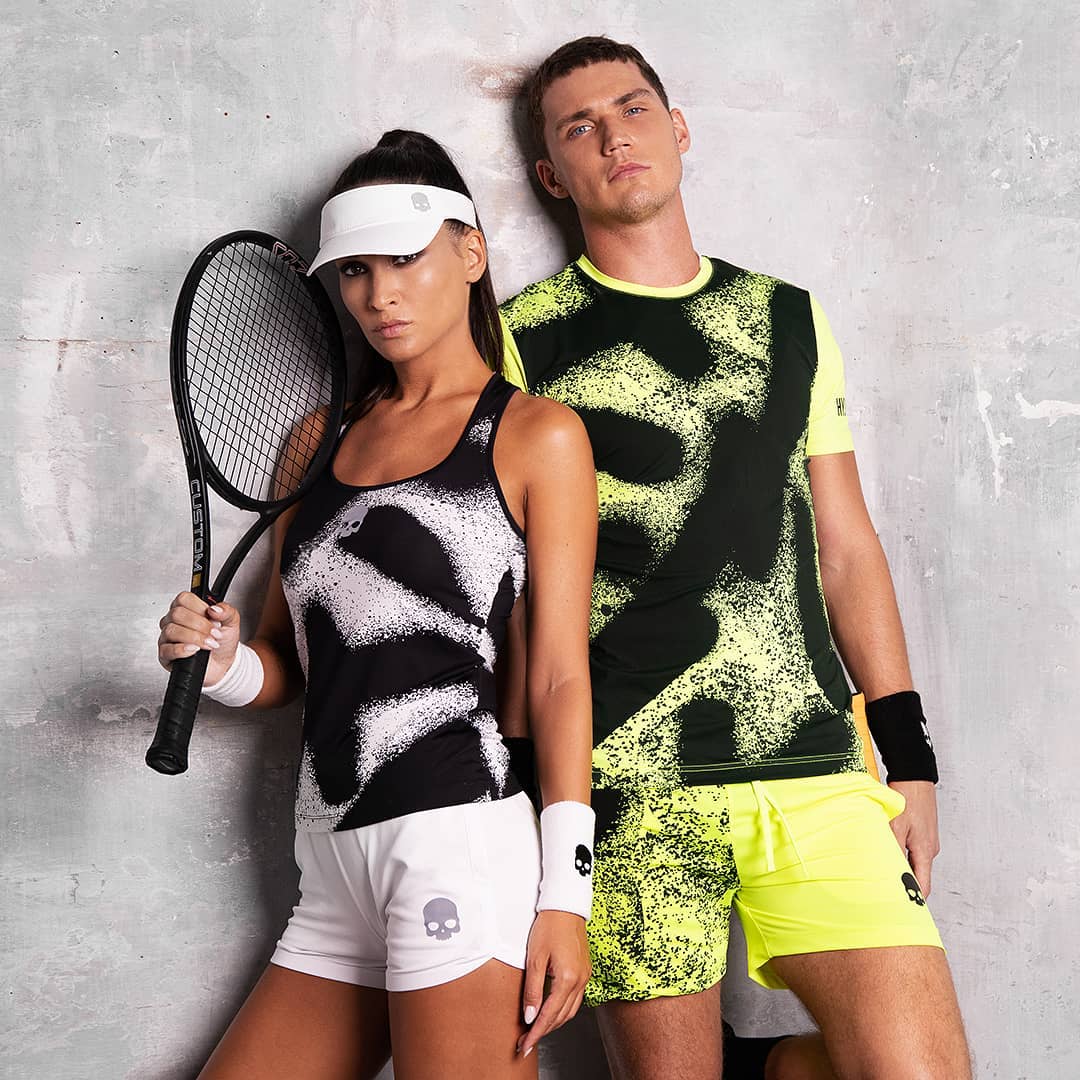 Hydrogen is an Italian luxury clothing brand that has a large number of high-quality kits for both padel and tennis .
In it we find unique and most original designs to add a little color to your padel outfits, especially in women's clothing. As for its technologies, they are responsible for providing comfort and perspiration, which makes it a high-quality brand.
In this collection we highlight its polyester fibers that help create a thermoregulation of sweat . In this way we can perform any type of high intensity sport very fresh.
In addition, their fabrics are highly elastic, which allows you great mobility but without losing the fit that makes them the most flattering garments.
In them you can find the most colorful prints or exclusive effects patented by the brand.
ENDLESS, quality garments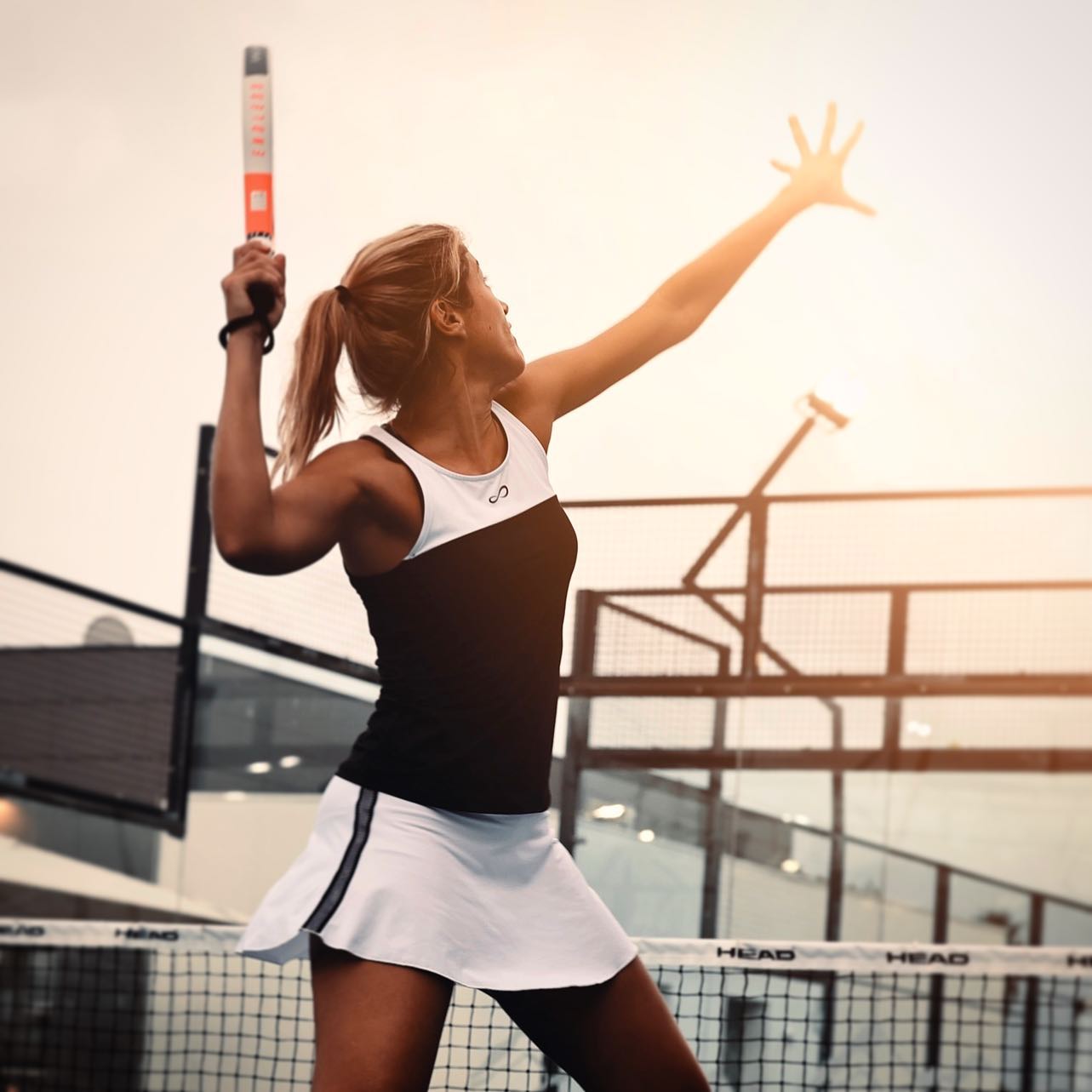 Created to inspire athletes to push their limits. Its catalog is the widest, thus counting on collections for padel, tennis, yoga or training, always thinking of the female audience . Its fabrics are characterized by having high quality technologies, some of them are:
Protection against the sun's rays.
Lycra sport fabric.
Micro-perforated panels that improve ventilation.
Ergonomic seams for greater comfort.
To finish, most of the Endless clothes are very flattering since the skirts are high-waisted, so once they are on they will help to stylize the figure of the abdomen. The t-shirts on the other hand provide a very good fit to the body as well as support so once you wear them you will love how they look.
Belén Berbel's BB
Spanish brand created nine years ago by three former tennis players who sought to create garments for sports such as padel tennis or tennis that provide great comfort for these high-intensity activities.
At BB Padel we find a large number of basic sets that you can always keep in your closet as they never go out of style.
In addition, like the Endless brand, it also has UV Protection 50+ protection, which helps protect the skin from solar radiation while you play.
The Bi-stretch fabric has also been included, which is responsible for giving the garment greater elasticity as well as better perspiration, preventing the accumulation of liquids such as body sweat.
ASICS
Leva more than 70 years present in the world of sports. Although its fame is due to its padel tennis shoes, it also has a wide line of sports clothing for women in which you can find high-quality sets that will give you maximum comfort on the court.
Asics clothing incorporates technical fabrics so they are highly resistant and durable, so they will provide you with great quality to prevent them from losing their performance due to use and washing. On the other hand, they are highly breathable as they have been designed with mesh fabric that helps improve sweat ventilation.
It has also been made with elastic materials so that its garments will allow you to carry out all the movements that are necessary in sports such as padel tennis or tennis in which you need to have total freedom to make the best shots. So it is clothing suitable for padel tennis, tennis or running.
BABOLAT
One of the references in racket sports. Currently, it has the representation of Virginia Riera, number 7 in the World Padel Tour ranking. Thus, its padel section offers a wide catalog that ranges from rackets, padel rackets to sportswear to play tennis, badminton or padel tennis.
The Babolat Play padel clothing collection has been designed with quality fabrics and technologies developed by the brand itself. Among them we highlight:
360 Motion : fabric that helps improve movement, also eliminating seams so that once the garment is put on, it does not create skin irritations due to rubbing.
Fiberdry : fabric made with polyester so it helps to make it as light and soft as possible so that it does not create itching on the skin. In addition, this material gives the garment greater resistance, thus preventing it from losing its initial quality due to intensive use or washing.
HEAD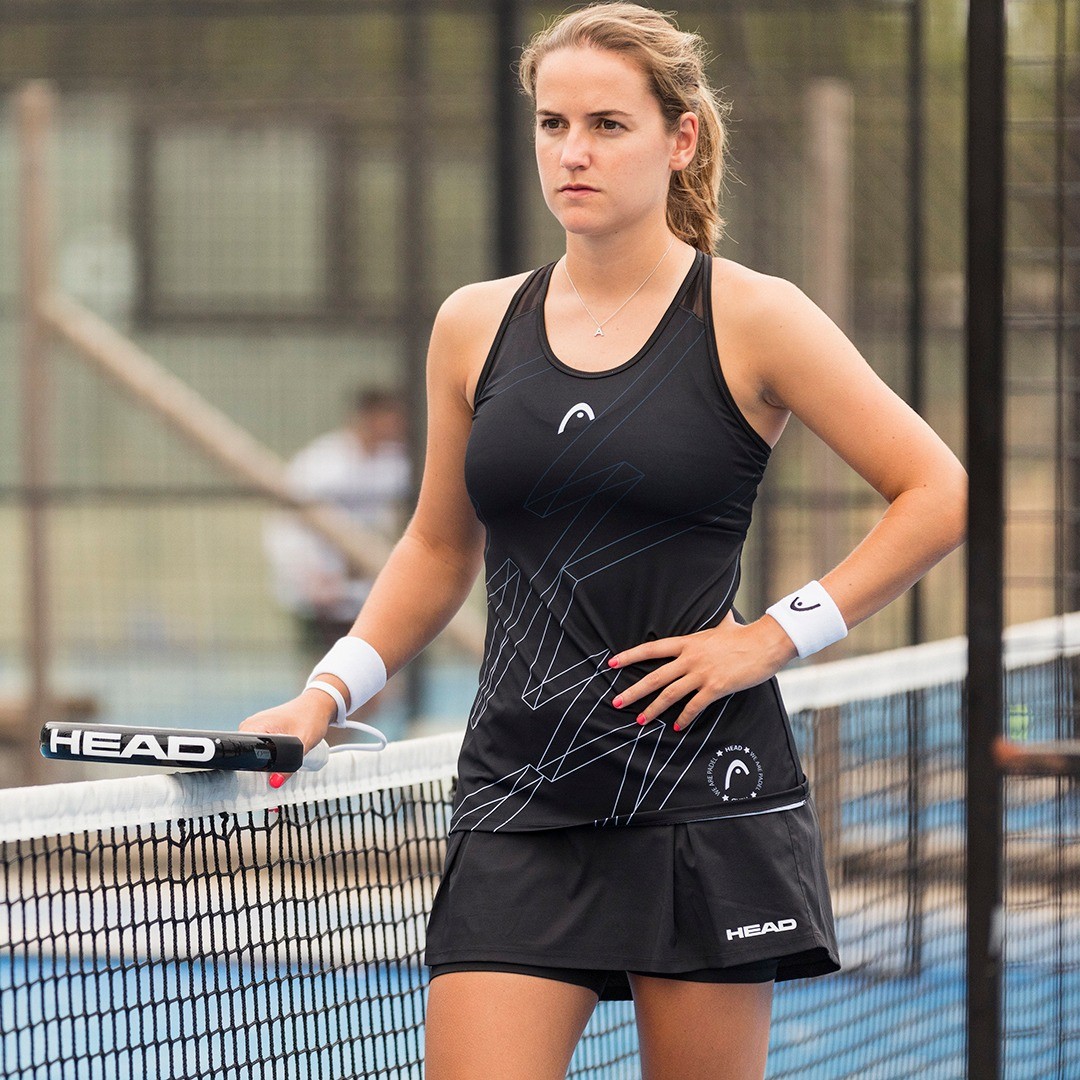 We finish with another of the market giants, we are talking about Head Padel clothing . It has a collection of padel clothing designed for all those women who seek comfort. Among its most outstanding players we find two of the best players, Ariana Sanchez and Paula Josemaria , the number one couple on the World Padel Tour.
For their garments they use microfilaments which help absorb sweat to later expel it and be able to play more comfortably without the fabric sticking to the body. In addition, they do not lose color or quality with time and use.
Mesh fabric is also used, a kind of mesh that is placed in key parts of the shirt where sweat accumulates the most to prevent excess sweat. This material will help you to be able to play comfortably avoiding excess heat.
Discover in Zona de Padel the best brands of women's padel clothing so you can go well dressed to your competitions.