2022-09-01
2022-09-01
We present one of the most anticipated comparisons of the most successful brand in padel, Head Padel , with two of its star rackets , the Head Alpha Power and the Head Flash Plus 2.0 . This firm has managed to position itself among the best thanks to the quality and technologies of its products that allow it to give everything on the track.
Among the professional players who wear Head we can find Arturo Coello , who is number thirteen in the world ranking of the World Padel Tour and who also has his own model, the Head Graphene Delta Pro. There is also Edu Alonso or Ari Sanchez, among others.
The Head Alpha Power and the Head Flash Plus 2.0 , two versatile models , one of them for advanced level players and the other for more intermediate level players. They are also exclusive and limited models so you can find them in our store.
Head Alpha Power
We start with a very well balanced model, the Head Alpha Power . This versatile padel racket features a teardrop mold with a very focused balance. This will provide us with great manageability and also a wide sweet spot so as not to miss any ball.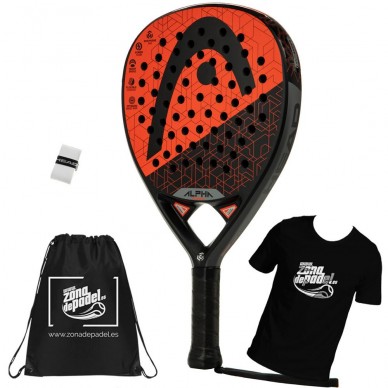 OFFER: €105.95 RRP: €200.00
Shape: Teardrop
Game: Versatile
Weight: 365-375
Inside we find a Power Foam core , a foam with a soft texture that will give us the output we need in slow balls, helping us from the bottom of the court since you will be able to easily get the ball out. Nor does he neglect the sensations of power since hitting with the right technique does not cost to print power in volleys or spikes.
Great Playability and Comfort
Its structure is mainly made up of fiberglass , which allows for a more comfortable game as it reduces the vibrations that create discomfort in areas such as the elbow. The other component that we find is Graphene , undoubtedly very resistant and light that will also allow to extend the useful life of the racket while protecting it from possible shocks.
On the other hand, we find the Flexible Chassis technology, which is responsible for improving the hitting area to make it wider, which will forgive us with off-center balls. They also have Smart Bridge technology which helps the bridge area adapt to the control or power needs required by the racket.
Who is Head Alpha Power for?
In our opinion, the Alpha Power is perfect for players looking to have power during the game but without giving up control, which will help us dominate any aspect of the game, players who want to progress quickly or who play several games per week.
The mold is similar to that of the 2019 Alpha Pro , so we are taking advantage of the mold of a high-end racket for all audiences.
Finally, for the design the color red with black has been chosen, and a most striking print, a classic design with a very modern touch, it also includes a protective in the frame area to protect the padel racket from possible blows.
Head Flash Plus 2.0 2022
Another of the limited edition Head rackets is the Flash Plus 2.0 that you can only find in our store. It is a perfect model for anyone who is starting to play padel tennis or has an intermediate level and wants to improve , or an ideal racket to start playing with a quality racket.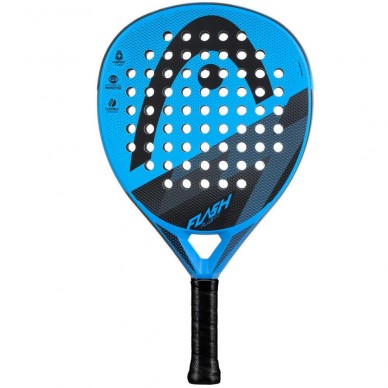 OFFER: €74.95 RRP: €180.00
Shape: Teardrop
Game: Versatile
Weight: 365-375
An oversize mold has been used for the mold , keeping the balance well centered to provide equal power and control in hitting . So it is a model that will adapt to any type of game without problems, allowing us to define our style of play.
As for the materials, graphene has been used, so it is the most resistant while it helps to make it very light, weighing approximately between 365 and 375 grams.
We go to the inner area where we will find the foam, a soft rubber that helps us to make ball outputs with a lot of power while providing us with very good sensations in each hit .
Padel racket for all audiences
On the other hand, this material allows us to make less effort so that we can play a much more comfortable game. It is also perfect for those who play for long periods of time as it helps to reduce vibrations very noticeably.
On the court, a fairly wide sweet spot is noticeable, so we can take the ball out even if we do not hit it centered, so it will help us reduce unforced errors . Near the net also responds quite well in power.
To finish, it presents a very cool design in blue with black details… an aesthetic that athletes really like!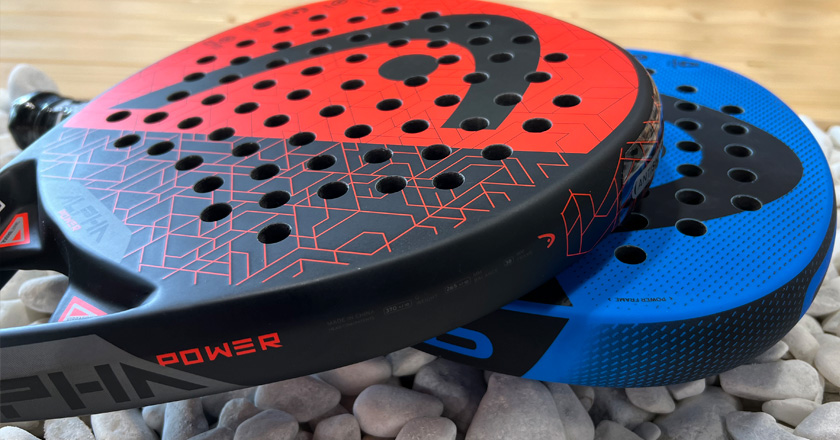 And so far the comparison of two of the most exclusive models that you can find in our padel store. As you can see, they are two versatile padel rackets since they adapt quickly to any type of game so that you can perform at your best level.
Final recommendations
We recommend the Head Flash Plus 2.0 for beginner players who want to level up as it offers a perfect balance between power, control and comfort.
On the other hand, the Head Alpha Power is a more complete model in terms of materials and technologies, so it is perfect for players with a more advanced level who are looking for a high-performance padel racket with great value for money .