Cartri Snake Limited Edition 2022
-17%

Cartri Snake Limited Edition 2022 padel padel | Great touch and sensations when hitting with this Cartri limited edition racket, a technical model that combines more flexible materials that improve its playability
Control
Power
Ball outlet
Manageability
Hardness
Gameplay
Snake Cartri Limited Edition Snake
Choose your winning sword within the new Cartri 2022 racket collection. There you will find models as complete as, for example, the Snake Limited Edition padel racket. It is a versatile padel racket that, thanks to its round format and well-centered balance, offers a wide hitting surface as well as good power.
It also generates very good sensations when hitting with the eva soft rubber inside, a foam that improves ball output and absorbs the impact of the ball. In addition, the structure is very solid since it combines carbon with Kevlar in the tubular and carbon with fiber glass on the surface to increase its playability.
Limited Edition Cartri Snake Features
Surface of the Cartri Snake Limited Edition 2022 in carbon fabric and fiber glass.
Greater ball output with the eva soft rubber of the core.
padel racket balanced by its round format and content balance.
Tubular carbon and kevlar frame, which provides greater resistance.
New drilling distribution that increases its performance on the track.
Great gameplay, adapting to any style of play.
Collection of rackets for men Cartri Padel 2022.
Who is it for? Suitable for high-level players looking for a versatile padel racket with a semi-soft touch, since thanks to the materials used, the new limited edition snake offers a very comfortable touch, providing better sensations when hitting and reducing injuries.
Why will you like it? You will not only like it for its performance on the track, but also for its fantastic design since it is a limited edition cartri racket. So only a few will be able to enjoy its performance and fantastic design in black with details in green and coral.
Find out more about the CARTRI brand
Stay with the name of Cartri Sport, a company of Portuguese origin that has been in the sector for many years, striving to produce quality padel rackets as well as other complements and accessories to play padel made in Spain.
Currently, it already has the representation and collaboration of professional players such as Lucía Martínez, Alba Blanc, Jorge Burgos or Diego Simón. Discover its novelties for this season, you will find very affordable prices to fully enjoy this beautiful sport.
Features
Shape: Round
Level: Advanced
Play: Polyvalent
Weight: 360-375 gr.
Profile: 38 mm
Player: Man
Tacto Semi blando
Material Principal Carbono
Rugosidad 3d
Our best products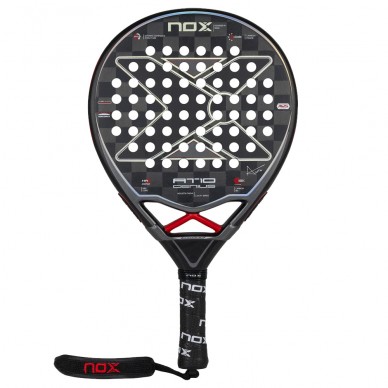 -44%

-49%