2023-05-26
2023-05-29
Fernando Belasteguín, also known as " Bela " or " The Boss ", is an Argentine professional padel player, considered the best player of all time, being the player who has been number 1 in the world ranking the most times, as well as for Being the player with the most World Padel Tour titles in history. He currently occupies 8th place in the WPT ranking, currently in the last season he announced a new duo with the Argentinian player Franco Stupaczuck.
Fernando Belasteguin
On the track, Bela has always been known as a strategist. His game is characterized by pressure at the right moment, as he always assesses the situation . He describes the lob as his best shot, as well as his backhand technique he has specialized in recent years. His mythical combination with Juan Martin Diaz made them a legend by keeping number 1 for 13 years, as well as during his long career he has shared the track with other great professional players such as Pablo Lima and recently with Arturo Coello.
Name
Fernando Belasteguin
Nickname
Bela, The Boss
Birthdate
May 19, 1979
Place of birth
Pehuajo, Argentina
Height
1.80cm
Current couple WPT 2023:
Franco Stupaczuck
Position
Reverse
In 2022 he revitalized his game upon returning from injury with a new teammate with whom he closed a great season. Today we are going to analyze the trajectory of the legend of Pehuajó, the best player of all time.
Biography of Fernando Belasteguin
Fernando Belasteguín was born in the town of Pehuajó in Argentina , on May 19, 1979.
At just 13 years old, he started in the world of padel. Whether or not it was the result of chance, when Bela played soccer as a child at the Club Atlético Gral facilities in Pehuajó, he was bitten by this sport, that's when he was discovered by Roberto Díaz, father of the also padel players Godo and Matías Díaz, coach and great padel professional.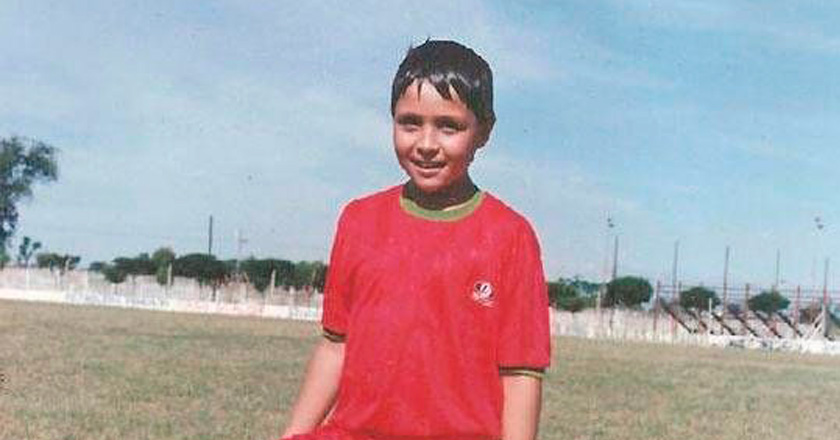 At just 15 years old he made his debut as a professional player and at the age of 20 he was already proclaimed the best player in Argentina. In 2001, together with what was his duo for many years, Juan Martín Díaz, he began that trajectory of being number 1 in the ranking for 13 consecutive years, holding the unbeaten record with 1 year and 9 months undefeated and winning 22 consecutive tournaments. in 2006 and a total of 170 tournaments.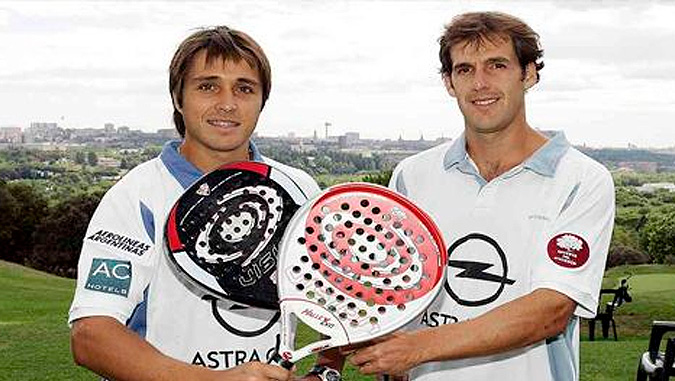 It is not until 2015, when Bela decides to end the professional relationship with Juan Martín due to mutual exhaustion but maintaining a good personal relationship and begins her journey with the Brazilian Pablo Lima .
Along with Lima, Bela maintains the number 1 position and both become the top couple in the WPT ranking for two years. In 2017 Belasteguín added 16 years as the king of the padel court.
Bela and the new generations
When age finally caught up with Fernando Belasteguín, at 40 he decided to ignore his distant retirement and opted to reinvent his game, his separation from Pablo Lima generated a radical change in his game.
In the first place , his new next partner was the young Agustín Tapia , a young backhand player, just like Bela, which caused him to change his position after 18 years on the backhand and thus try to lengthen his career. sporting life a few more years.
After three seasons where he reaped fruits, the change came along with Sanyo Gutiérrez, with whom he shared successes for a season and a half before being separated due to an injury that kept the player off the slopes.
In the 2021 season, during the drastic change of couples that the professional circuit experienced, it was when he decided to bet on a young Arturo Coello at the right time, since he saw in the young man an unpolished potential that could help them both take advantage of his game and thus continue to improve his career. This is how the man from Pehuajó joined the man from Valladolid to embark on a path that allowed them to continue adding figures in their already mythical career.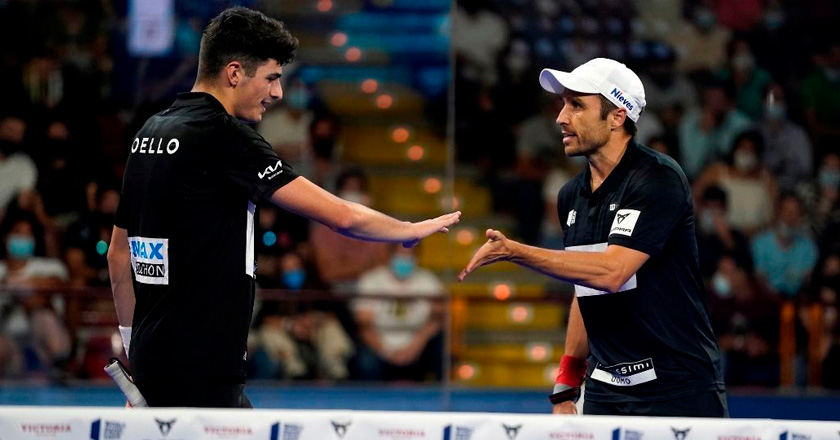 Belasteguín: The myth turned legend
Being a 16-year consecutive champion in padel is not just a matter of trying to be the best, but you have to give the best of yourself. According to Fernando Belasteguin,
whatever you do, give it your all
If we apply this philosophy in addition to promoting sportsmanship and being human both on and off the track without forgetting where it comes from and competing in a humble way, we believe that this formula may be the secret of such success.
Of course, without underestimating all the work that this player does before, during and after each game, including his training to strengthen shoulders as well as other areas of the body to avoid the fearsome injuries that players like him who have suffered, know what difficult it is to be temporarily out of the game until you can recover.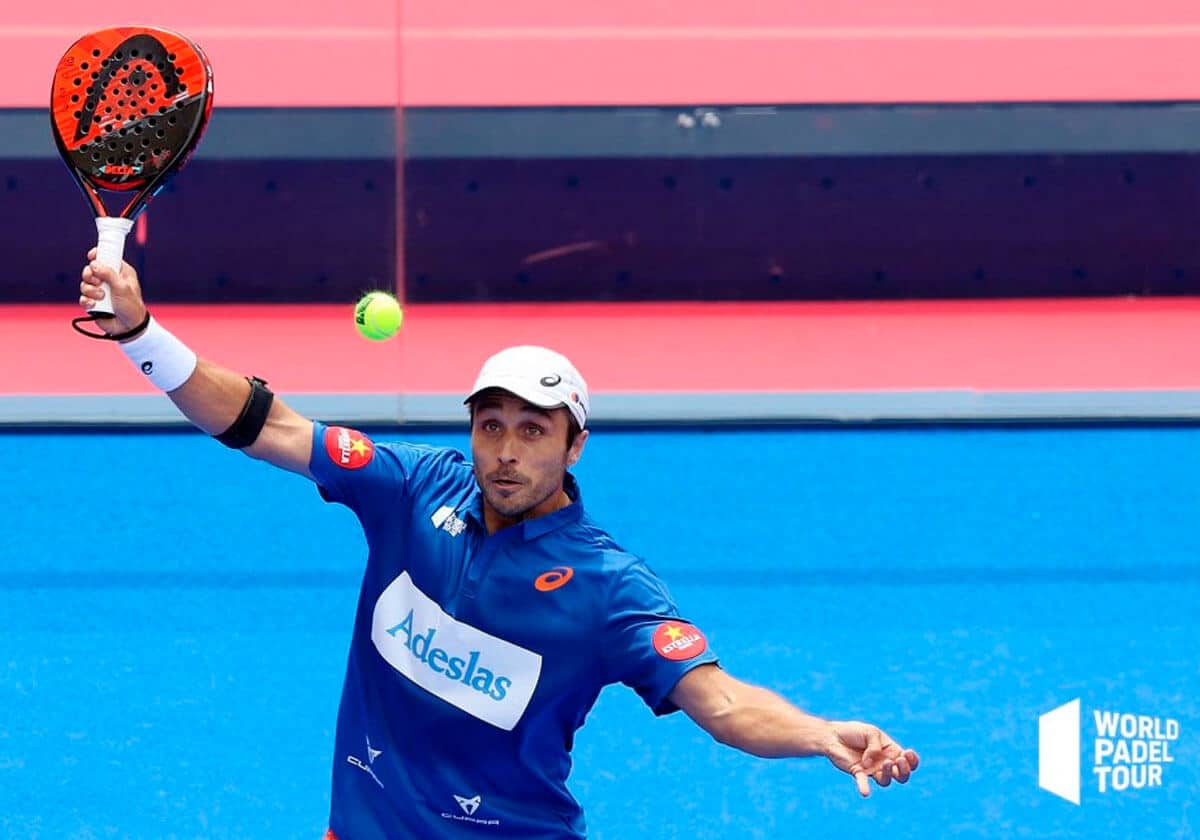 As he always lets us see in each of his interviews and comments, he is a player who exudes camaraderie and who is very grateful both to his team and to his family, friends and fans.
Wilson and Fernando Belasteguin
After a mythical relationship with Head, for a couple of seasons Wilson Padel has become the house that dresses, arms and shoes Bela, creating a range of products made especially for the best player in all of history.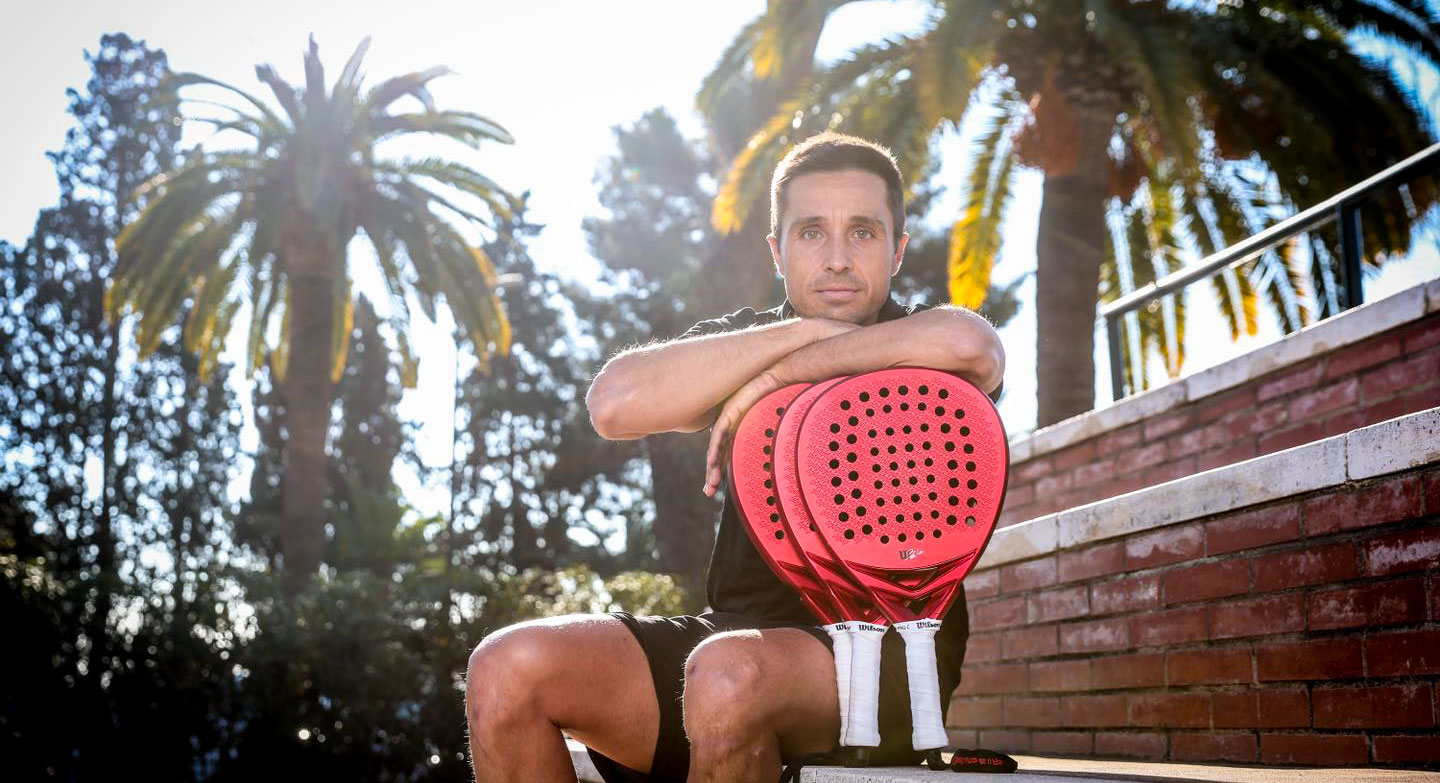 The Wilson Bela Pro is Bela's new racket, perfect for offensive players , those who seek power, strength and forcefulness. It presents a diamond format with high balance, which translates into very good performance in the passing game.
It presents a carbon construction and 3K fabric for the faces, making the touch drier and harder, it has a high-density eva rubber core, so it is a hard racket with which we will print our blows with speed. In turn, it incorporates Spin Effect Grip technology for effects as well as a replaceable safety rope.
Wilson Bela Pro V2 2023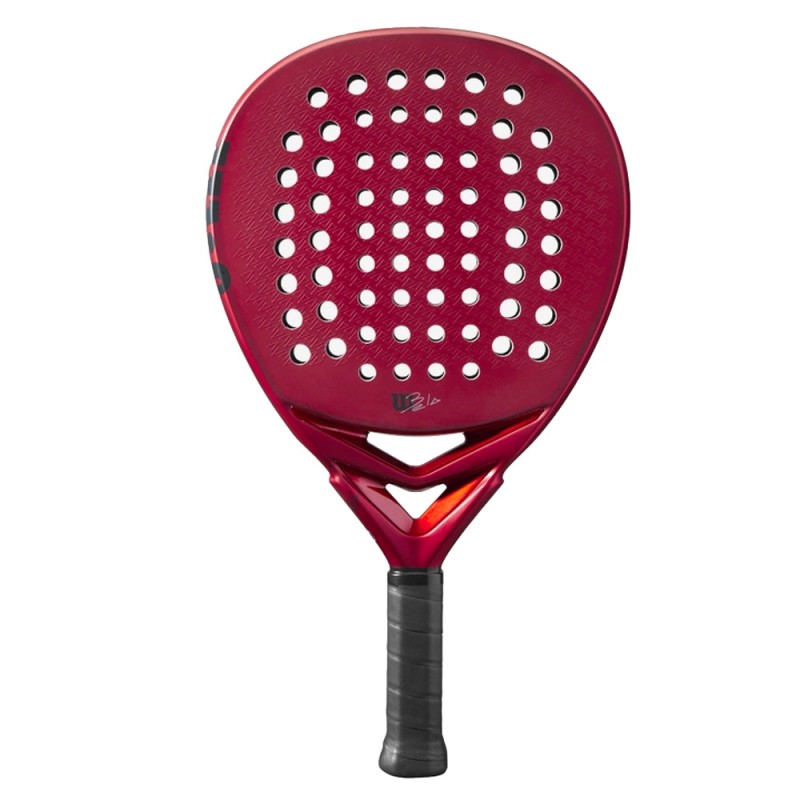 OFFER: €337.46
RRP: €380.00
Shape: Diamond
Game: Power
Weight: 360-375
Wilson padel shoe collection also includes the best possible footwear, such as the new Bela. It is a model for advanced athletes, reinforced with the duralast compound and also with a circular sole design, also including a pivot point that facilitates turning. This type of sole does not offer as strong a grip as clay, so they are a good option to use on curly grass courts.
They have a sock-like construction and also sensifeel, that is, with layers of mesh to improve ventilation, comfort and provide a homogeneous fit. It also features a 9mm drop for excellent cushioning and improved response when impacting with the ground.
Wilson Bela Pro Black Ebony 2023 Padel Shoes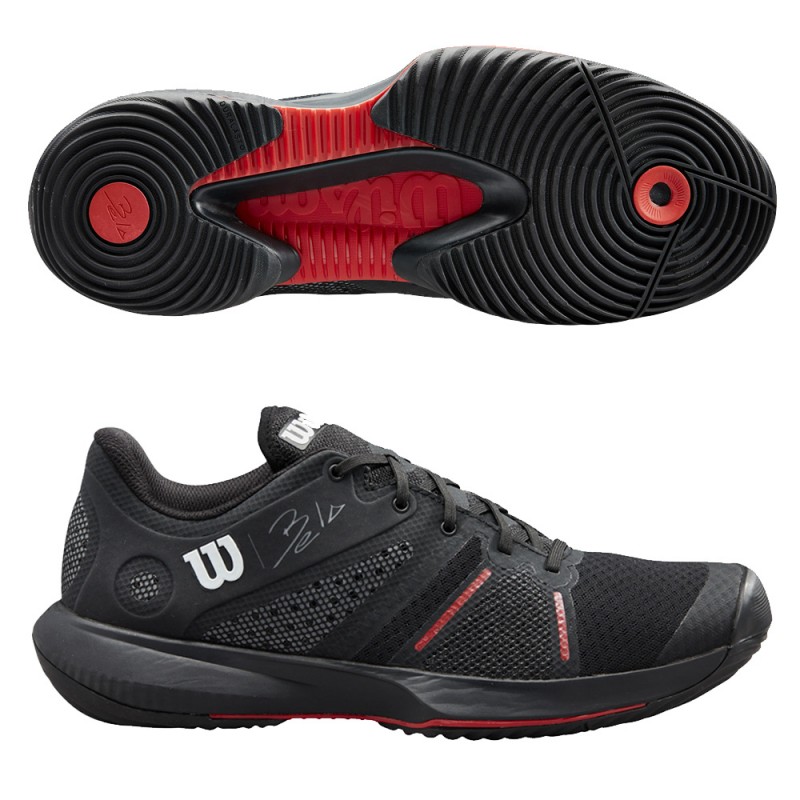 OFFER: €102.74
RRP: €160.00
Level: Advanced
Game: Lightness
Sole: New Padel
Among the clothing for " The Boss " we find a series of clothing items designed by Wilson in which the characteristic signature of the player is included in its design.
Wilson's white polo shirt with the brand's logo and the player's signature on the front. Designed in a versatile combination of polyamide and polyester.
Wilson Series Seamless Polo Shirt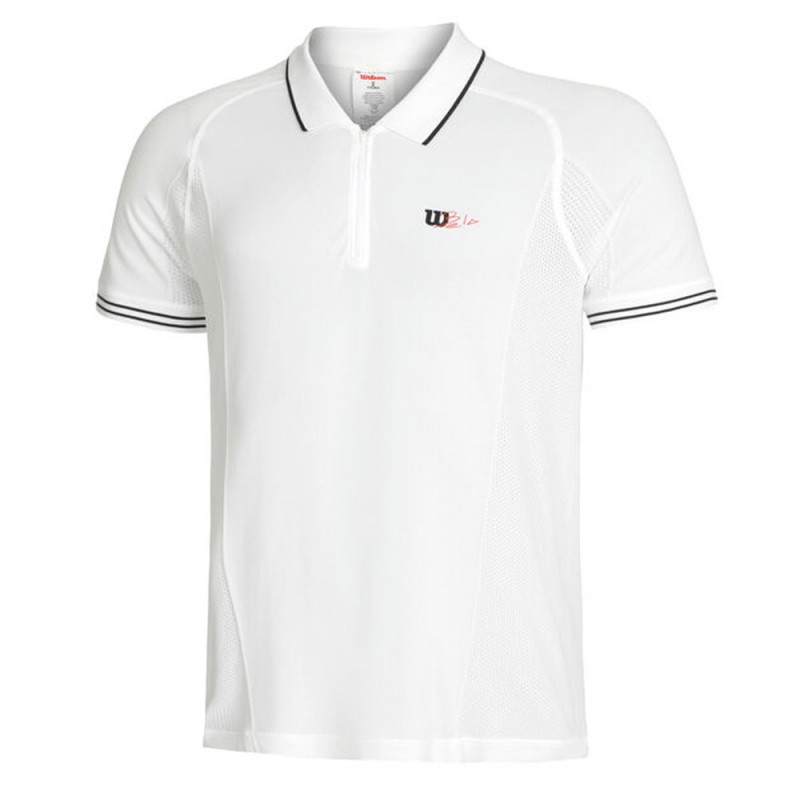 OFFER: €62.95
RRP: €70.00
Player: Male
Main fabric: Polyester
Fabric: Nanowik technology
Wilson's shorts are designed in two colors, in the classic black and white, a classic design that is very comfortable for the track and convenient to take advantage of its material regardless of the time of year.
Short Wilson Tournament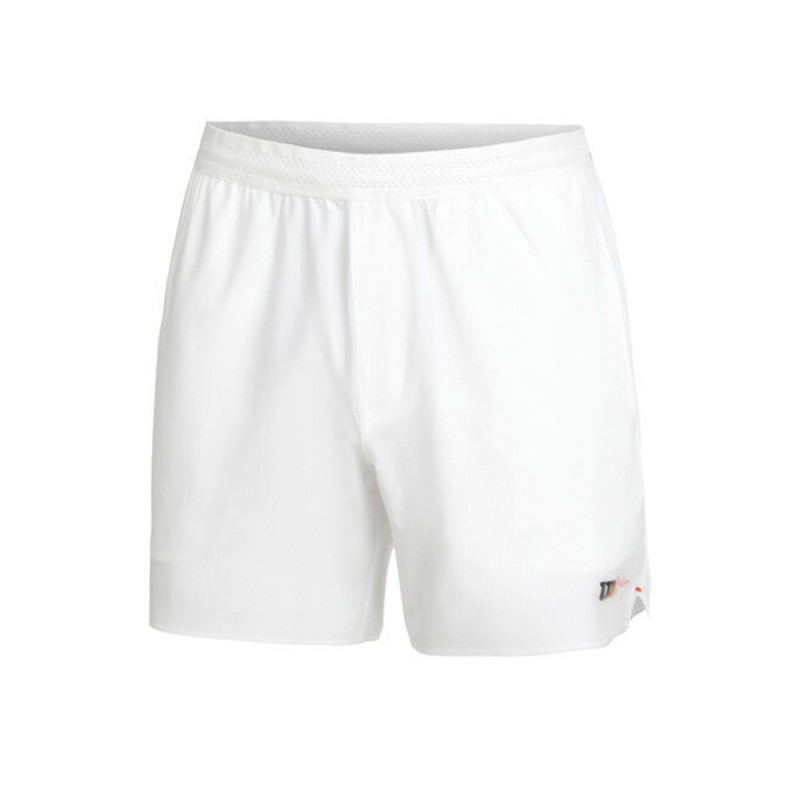 OFFER: €56.95
RRP: €65.00
Player: Male
Main fabric: Polyester
Fabric: Elastane
This sweatshirt is manufactured in 5 colors , with a very soft fabric with a Termaflex finish and that fits perfectly to the body, it stands out for having a pocket with a zipper and a zipper.
Wilson Triblend Hoodie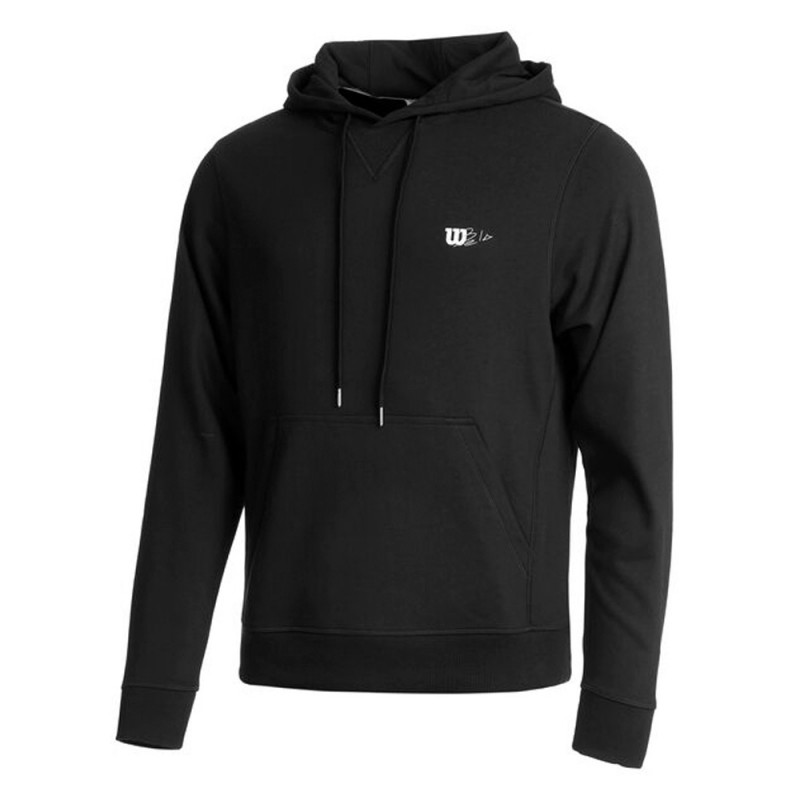 OFFER: €74.91
RRP: €95.00
Player: Male
Main fabric: Termaflex
Fabric: Polyester
And to close the collection we have one of the most elegant bags. The Bela padel bag developed by Wilson.
Regarding its space, it is quite large with two pockets to store the rackets, one of them thermo to prevent the materials from suffering due to temperature changes. It also has a large main compartment and another on the top for shoes. It is also very comfortable to carry thanks to the two padded handles with which it has been designed. You can get it in black but there is also a more striking version in red for those who like to turn heads when they hit the track.
Wilson Bela Super Tour Padel Bag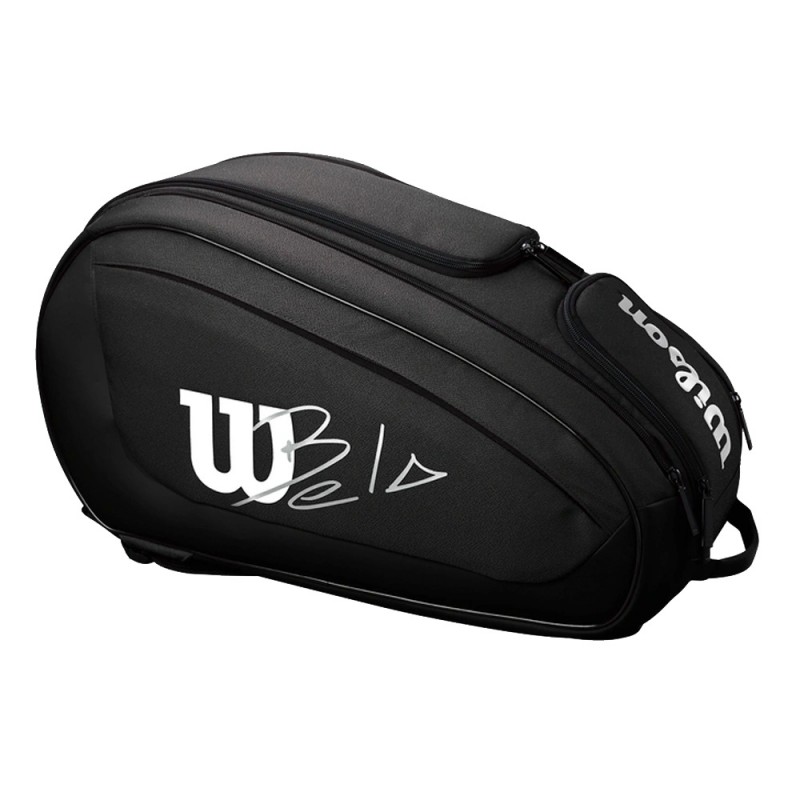 OFFER: €81.54
RRP: €120.00
Capacity: 2 padel racket
Thermos: yes
Slippers section: Yes
Fernando Belasteguín, constancy and perseverance
He has released a biography whose prologue is written by soccer player Andrés Iniesta in which all proceeds go to various charitable causes . Bela is a very humble player who has his feet on the ground but despite having been number 1, according to him, he does not fully enjoy his victories because he is always looking to improve and not let his guard down for a second. This is one of the excerpts of what the Argentine player explained to Mundo Deportivo during an interview when he was presented with the " Leyenda Menorquina Trophy " award in recognition of his successful career as a professional padel player:
I'm very happy. Mundo Deportivo always remembers padel, so for me, as part of the padel family, it is a great pleasure. Everything happens very fast. I realize that in each preseason my body hurts more, but there is no doubt that when I no longer play I will look back and enjoy everything I have achieved because perhaps now I have the defect of not enjoying anything. I am so aware of everything I have to improve that it does not let me enjoy a title or the years of number 1. Everything has happened very quickly, but I have no doubt that when I stop playing professionally and do not have to train to death every I'm going to enjoy it a lot.
Palmares and triumphs of Fernando Belasteguín
The Boss has the most surprising figures in terms of records because over time he has been the figure that has become a benchmark in terms of victories, both in the World Padel Tour tournaments and in Premier Padel, for what we show a summary of the most recent titles of the champion as well as an account of his long career.
| Couple | Year | Titles |
| --- | --- | --- |
| Franco Stupaczuck | 2023 | |
| Arturo Coello | 2022 | 3 |
| Sanyo Gutiérrez | 2021 | 3 |
| Agustín Tapia | 2019-2020 | 3 |
| Pablo Lima | 2015-2018 | 35 |
| Guillermo Lahoz | 2015 | 2 |
| Juan Martin Diaz | 2006-2014 | 115 |
Palmares World Padel Tour
| Date | Tournament | Couple |
| --- | --- | --- |
| 2022 | Amsterdam Open | Arturo Coello |
| 2022 | Madrid Master | Arturo Coello |
| 2022 | Miami Open | Arturo Coello |
| 2021 | Valencia Open | Sanyo Gutierrez |
| 2021 | Vigo Open | Sanyo Gutierrez |
| 2021 | Madrid Master | Sanyo Gutierrez |
| 2020 | Menorca Master | Agustín Tapia |
| 2020 | Cagliari Master | Agustín Tapia |
| 2019 | Madrid Open | Agustín Tapia |
| 2018 | Madrid Master | Pablo Lima |
| 2018 | Bastad open | Pablo Lima |
| 2018 | Valencia Open | Pablo Lima |
| 2018 | Alicante Open | Pablo Lima |
| 2017 | Madrid WPT Master | Pablo Lima |
| 2017 | Buenos Aires Master | Pablo Lima |
| 2017 | Zaragoza Master | Pablo Lima |
| 2017 | Granada Open | Pablo Lima |
| 2017 | Lisbon Open | Pablo Lima |
| 2017 | Alicante Open | Pablo Lima |
| 2017 | Barcelona Master | Pablo Lima |
| 2017 | La Coruña | Pablo Lima |
Palmares Premier Padel
| Date | Tournament | Couple |
| --- | --- | --- |
| 2022 | Monterrey Premier Padel Major 2022 | Arturo Coello |
The best starts of Bela in the World Padel Tour
To end this article dedicated to the number 1 of padel, we show you this video made by the WPT team of the 7 track outings of Belasteguín in the same match that they published on their YouTube channel.