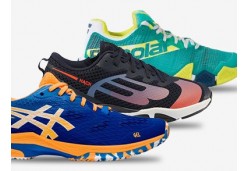 Padel shoes outlet
Do you want to change your old padel shoes? If this is the case and you urgently need to renew your footwear, enter our outlet section , you will be able to choose from a careful selection of our best products to enjoy to the fullest and not skate in your matches or training sessions. You can also take advantage of fabulous discounts on some footwear models, either due to seasonal clearance or last sizes, quality products that have nothing to envy to current season models.
Discover our selection of padel shoes outlet and compete at the highest level without having to pay more, a bargain that you cannot miss. Whether you are a player, man or woman and you need comfortable and durable footwear, do not hesitate to visit our outlet and let yourself be surprised by its excellent value for money.
Selection of padel footwear Outlet
In the padel area we are specialists in padel and we know how important it is not to slip on the track. With models for all tastes and audiences where the common factor is its fantastic price. Don't let them tell you, be the first to enjoy our Asics outlet padel sneakers, you can choose from the best brands without going over your budget.
Other Padel outlet Brands