2022-09-22
2022-09-22
This season Nox redesigns one of its best selling models : the NOX AT10 Luxury Genius Arena, now in red. This new version presents slight modifications to make it even more incredible, yes, without losing that balance between power and control.
One more year, it becomes the winning racket for Agustín Tapia , number 6 in the World Padel Tour ranking and who has already accumulated more than 100 victories together with the Nox firm.
As in previous years, it has been developed jointly with the player, so the AT10 Arena is the result of a selection of the best technologies and materials for a professional padel player.
OFFER: €207.95
RRP: €295.00
Shape: Teardrop
Game: Versatile
Weight: 365-375
Review AT10 Luxury Genius Arena
This year it maintains its tear format and the medium balance that has given it so much manageability and playability, therefore it becomes a very well compensated padel racket that offers a balance between power and control.
The weight of this one ranges between 360-375 grams, so it is hardly heavy or difficult to handle.
We leave you a video where we analyzed the best rackets of 2022 and included it in great detail.
Nox technology applied in the AT10
If we analyze all the technological innovations that NOX padel has used , we find the Dynamic Composite Structure which improves its resistance . Thanks to the reinforcements added to the frame and also to the surface, it improves the union between the materials, thus reducing the risk of breakage due to fortuitous bumps or shocks.
It continues to offer AVS technology , which helps to eliminate the vibrations that are generated every time we hit the ball, which will allow us to play for much longer with hardly any discomfort.
In the area of the faces they continue with the Rough Surface technology, it is the roughness on the faces. This type of finish is achieved with silica sand and will help us to make more topspins with the ball.
As a novelty in 2022, a SMARTSTRAP cord has been included that you can replace whenever you want , which helps you to hold the racket more safely, preventing it from slipping out of your hands involuntarily.
For the faces, 12k carbon fabric filaments have been added, following the line of its predecessor, which gives it a bit of hardness and firmness but without losing flexibility. This feature increases its power , allowing us to take our best shots near the net.
It features an Eva HR3 rubber core , the classic Nox rubber that players like so much. It is characterized by its memory effect, recovering its shape quickly so it allows you to enjoy a very good start without losing control or power over the ball.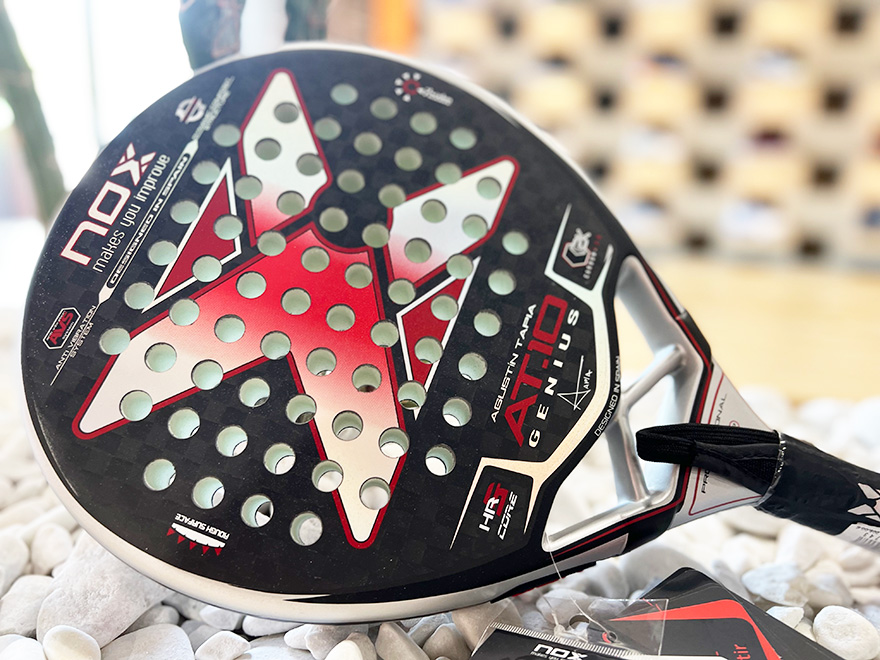 Differences with Nox AT10 Genius Arena 2021
The 2022 model hardly changes if we compare it with last year's version since it maintains its mold, balance and composition. The main difference that we can find is the color and the smartstrap laces .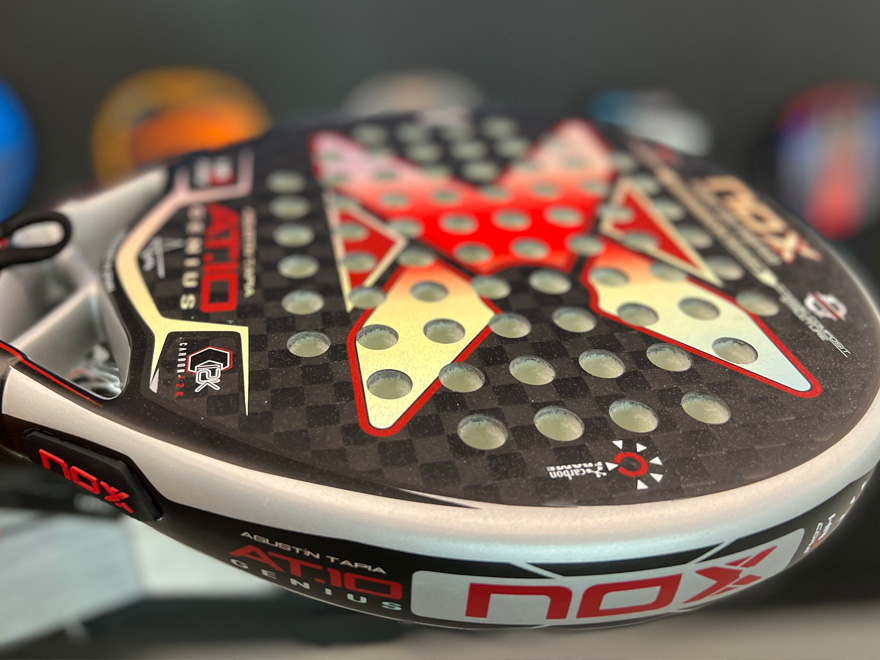 Nox AT10 Luxury Genius Arena 2022 reviews
Our impression is that near the net does not disappoint. In attack, it will allow us to easily get the ball off the track, hitting with the right technique due to its semi-hard touch and its wide striking surface.
Due to its medium balance and light weight, it is quite manageable so we can make volleys and quick shots near the net, although it can lose a bit of control when blocking.
When it comes to defending, it also responds very well, since it will help us to correct off-center balls, in addition to executing lobs or making small shots to get out of the defense position and start the transition to the attack.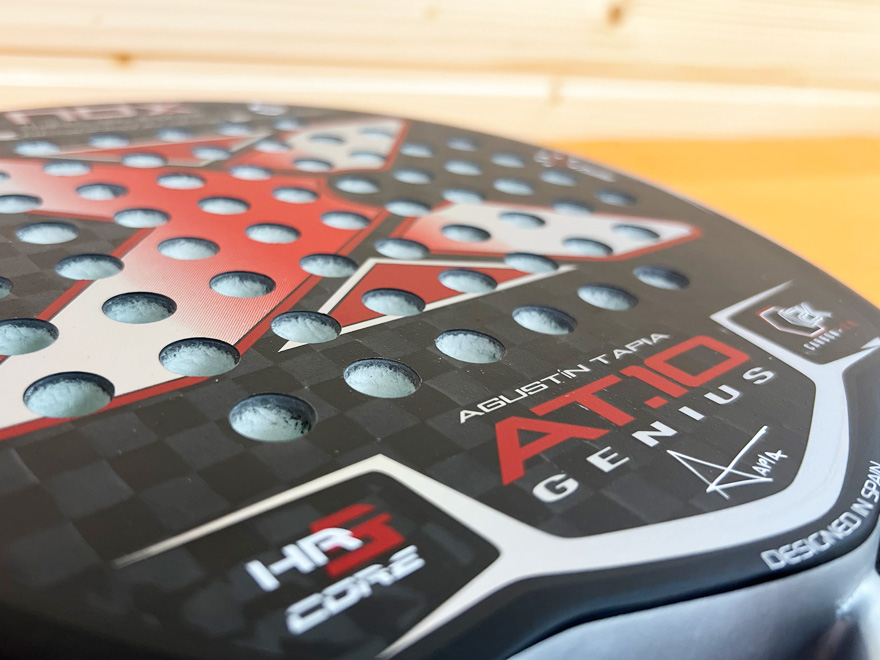 In our opinion it is a very well compensated padel racket that adapts to any style of play . On the other hand, if you are looking for greater sensations when hitting, the AT10 Genius Arena 18k is also available, since thanks to the use of more filaments it is not as rigid and, therefore, it improves its elasticity and is not as hard.
In short, we could end this analysis by saying that the Nox AT10 Genius Arena 12k 2022 is one of the best multipurpose rackets on the market . In this edition it presents slight modifications but maintains its essence and fantastic balance between power and control.
Don't let them tell you and discover for yourself the incredible features of Agustín Tapia's new padel racket.